Teresa Alvarado-Patlan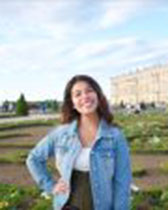 Teresa is a doctoral student in history and a Mellon Cluster Fellow in Latin American and Caribbean Studies. She is particularly interested in detention centers' history and their role in shaping noncitizen BIPOC relationships to immigration systems in the United States. 
Prior to graduate school, she earned a B.A. in Latin American, Latino & Caribbean Studies (LALACS) from Dartmouth College. Her senior honors thesis, "Redefining the Latinx Threat: How the U.S. and Department of Homeland Security Criminalized the Latinx Noncitizen post 9/11" examines how the U.S. engaged in a massive campaign to identify, detain, and deport Latinx noncitizens under a national security mantra, aligning the threat of "terrorist" with "illegal alien."  While at Dartmouth, Teresa was involved with the first-generation and/or low-income (FGLI) Dartmouth undergraduate and Upper Valley communities. After completing her undergraduate degree, Teresa served as a Post-Graduate Fellow with the Dartmouth Consortium of Studies in Race, Migration, and Sexuality, an interdisciplinarity research and teaching initiative aimed at deepening social worlds in Ethnic, migration, queer, diaspora, and transnational studies.
In a COVID world, Teresa is a dedicated plant keeper, bread baker, and social distance socializer when she is not in a virtual class.