A Message from the Chair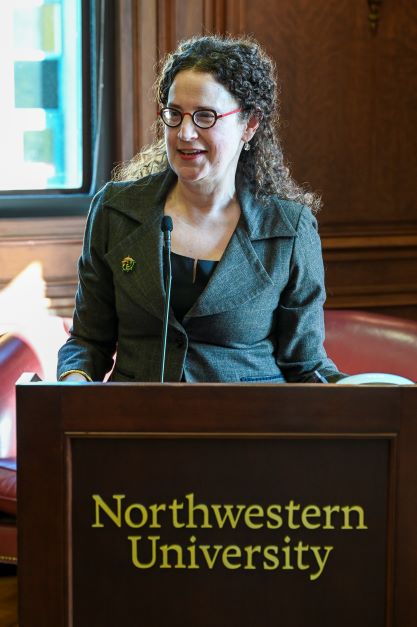 Amid the hectic days at the History Department, it's often difficult to think beyond the day-to-day. But as I prepare to finish my term as chair – and to hand the skeleton key to Harris Hall to Kevin Boyle – I wanted to thank our alumni for reminding me of the long view.
An extraordinary gift by Ian Sanders '91 has been an occasion to consider the work we do in Harris Hall, measured not in quarters but in decades.  The Sanders Scholars Program includes an endowed chair, which will be held by Robin Bates, as well as a new opportunity for our students:  a "must-take" two-quarter seminar sequence, the Historian's Craft.  We are deeply grateful to Ian for this tremendous investment in the Department.
At a party this May to celebrate the inaugural cohort of Sanders Scholars, Ian reflected on his History Department teachers, including Clarence Ver Steeg and Peter Hayes.  The Department's commitment to superb teaching and advising is still at the heart of our work, as the 3500-plus students we teach every year attest.  One of the pleasures of serving as chair is hearing about the inspired teaching of my colleagues from their students.  For the fifth year in a row, the History Department has won the university's highest teaching prize, the McCormick Professorship, which was awarded to Daniel Immerwahr.  We also garnered two College teaching prizes:  Lydia Barnett won Weinberg's E. LeRoy Hall Distinguished Teaching Award and our Ph.D. student Aisha Valiulla was awarded the College's Outstanding Teaching Assistant Award.  Kate Masur won the Ver Steeg Prize for outstanding PhD mentorship.  In addition, two of the three Provost's Awards for Exemplary Faculty Service were conferred on historians:  both Leslie Harris and Laura Hein were honored for their service to the university. 
The History faculty are, as usual, writing books and articles as well as teaching and serving the university and their fields.  İpek Kocaömer Yosmaoğlu was elected president of the Ottoman and Turkish Studies Association. Ed Muir began his term as the president of the American Historical Association.  At the Chabraja Center's annual book party in March, we celebrated another bumper crop, including books by Jeff Eden (God Save the USSR), Paul Gillingham (Unrevolutionary Mexico), Tessie Liu (A Frail Liberty), David Schoenbrun (The Names of the Python), and Lauren Stokes (Fear of the Family).  And we won a host of book prizes this year, among them the Order of the Coif Prize (Susan Pearson's The Birth Certificate), the Ogot Prize in African History (David Schoenbrun's The Names of the Python), the Bentley Prize in World History (Melissa Macauley's Distant Shores), Taiwan's OpenBook Award (Amy Stanley's Stranger in the Shogun's City), the John Phillip Reid Prize (Kate Masur's Until Justice Be Done), and the Haskins Medal (Dyan Elliott's The Corrupter of Boys).
A distinguishing feature of the Northwestern History Department is its prominence in public life.  The faculty serve as experts for museums, documentaries, TV, radio, and Congressional committees, and publish regularly in the New Yorker, the New York Times, the Atlantic, the Washington Post, among many others.  To take just a few examples from this past year:  Doug Kiel served as a curator of the Field Museum's new permanent exhibition, "Native Truths."  Ken Alder's research provided the basis for PBS's "Lie Detector" documentary, part of the American Experience series. The U.S. House Select Committee investigating the January 6th attack solicited testimony from Kathleen Belew and Kate Masur.  Geraldo Cadava will be writing a monthly column on Latino history and politics for the New Yorker. 
This fall, we welcomed three new faculty members to our ranks:  Jeff Eden, a specialist in Russian, Soviet and Central Asian history; Kathleen Belew, a historian of the contemporary United States; and Kennetta Hammond Perry, a historian of Britain, who joined the Black Studies Department with a courtesy appointment in History.  We made three new hires, who will begin their appointments this fall.  Haley Bowen, who is finishing her PhD thesis – "Breaching the Cloister:  Laywomen, Convents, and the State in the Early Modern French Empire" – at the University of Michigan, will join us as an assistant professor of early modern European history.  Jonathan Brack, currently a faculty member at Ben-Gurion University, will begin his appointment as an assistant professor of early Middle Eastern history; his first book, An Afterlife for the Khan: Muslims, Buddhists, and Sacred Kingship in Mongol Iran and Eurasia, is forthcoming from University of California Press.  We are eagerly anticipating, as well, the arrival of Akin Ogundiran, a distinguished specialist in early African history and archaeology, whose most recent book is the prize-winning The Yoruba:  A New History.
Harris Hall was renovated top to bottom in 2009/10, and Akin's hire has provided the opportunity to make some "revisions" to the renovation.  Starting this fall, we will have a material history laboratory in the basement of Harris, where Akin and his students will carry out their research.  As you'll see in our first-ever newsletter video, we have turned our former faculty lounge into a graduate seminar room, with a display of faculty and alumni books.  Please do send us your books so that we can add them to our display.  We're hoping, as well, to build a pergola and garden on the terrace of Harris Hall so that we can make better use of that space for teaching and events. 
It's been an honor to chair this juggernaut of a department.  We are all so grateful for the partnership of a terrific staff:  Christina Alexandru, Nick Anton, Susan Delrahim and Julie Hoather, headed up by Annerys Cano, History's Business Manager.  I thank our alumni for their generous and whole-hearted support of our work.  Finally, I salute our beloved colleague Jonathan Glassman, who will retire this summer.  An eminent Africanist, Jon has been a linchpin of the Department's top-ranked Africanist PhD program for decades.  His colleagues and students will gather in June to celebrate his career.
Sincerely,

Deborah Cohen