New Faculty Spotlight
Ștefan Cristian Ionescu
Theodore Zev and Alice R. Weiss-Holocaust Educational Foundation Visiting Associate Professor in Holocaust Studies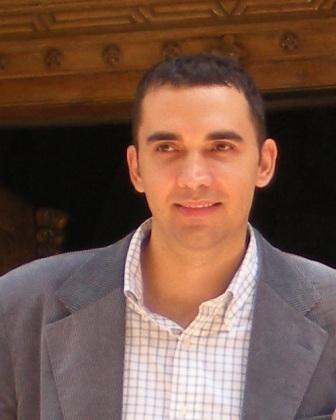 After an international search, in fall 2019 we welcomed a new colleague, Dr. Ștefan Cristian Ionescu, to the Department as a Visiting Professor in the Theodore Zev and Alice R. Weiss – Holocaust Education Foundation Chair in Holocaust Studies. Prior to his arrival at Northwestern, Ștefan taught at Uppsala University in Sweden, where he had won a major European Grant to direct a multi-author study of "Transcultural Networks in Narratives about the Holocaust in Eastern Europe." He has held a number of prestigious grants and also taught at Elon University in North Carolina. He is currently working on two book projects: Restitution of Jewish Property in Post-Holocaust Romania, 1944-1950 and War Crime Trials and the Memory of the Holocaust in Romania.
Ștefan is the author of Jewish Resistance to Romanianization, 1940-1944 (Basingstoke: Palgrave Macmillan, 2015), a ground-breaking book that examines the antisemitic expropriation of Jews' property in wartime Romania, a country that was the second-largest perpetrator (after Nazi Germany) of the genocide of East European Jews in the Holocaust. In most of Europe, the seizure and redistribution of Jews' property and businesses went by the name "Ayranization;" for Romanians, it was "Romanianization," a national program to reduce Jews' role in the economy and enrich (and bind) supporters of the regime. Ionescu's book vividly brings the story of Romanianization to the reader through a wealth of cases culled from the archives. Ironically, corruption, which underpinned and propelled Aryanization throughout Europe, ultimately served to undermine the program of Romanianization, as would-be expropriators found it more valuable to take bribes from Jews threatened by seizure than take on the responsibility and risk of running the businesses themselves. Ionescu shows how individual Jews and the Jewish community blunted the Romanianization program through inventive and persistent resort to the legal system and the courts and through the mobilization of interpersonal connections and beleaguered resources. Ionescu's insightful work provides an important and convincing explanation of the paradox of wartime Romania, whose forces committed some of the worst crimes of the Holocaust in the occupied Soviet Union, but which, by the end of the war, was home to the largest surviving Jewish community in Nazi-occupied/allied Europe.
At Northwestern Prof. Ionescu has thus far taught a seminar in winter quarter 2020 on "Mass Violence" and is teaching a lecture on "Comparative Genocide" in the spring. During registration both courses filled immediately up to the maximum enrollment. In the coming year Ștefan will offer additional courses, including the department's "History of the Holocaust" lecture. He has also been an active contributor to the Crown Family Center for Jewish and Israel Studies and has offered several on-campus presentations to undergraduates, graduates and faculty.
Back to top