Undergraduate Alumni Profiles
Katie Krall, History Major, WCAS class of '18
"Make the familiar strange." It was a challenge issued in Henry Binford's history of Chicago class and one I have used as a guiding light during my time in baseball. The knowledge base that I built has allowed me to leverage qualitative and quantitative data to dynamically solve problems. No matter the arena (determining bargaining strategies for the next MLB CBA, identifying what players to draft, breaking down a pitcher's arsenal), my time at NU and the people who walked with me along the journey helped me become the person I was meant to be.
After graduating in 2018 I moved to New York to work at MLB in the Office of the Commissioner. The League Economics & Operations department recognized my ability to synthesize disparate pieces of information into a comprehensible narrative so one of my first assignments was evaluating the lowering of the pitching mound in 1969. Reviewing newspaper articles, meeting minutes and editorials about the importance of restoring the run scoring environment in this era were familiar muscles to flex thanks to courses at NU. I was comfortable articulating my thoughts because of lessons from History department chair Deborah Cohen's seminar on the 1930s where I wrote about Hall of Famer Hack Wilson, the Chicago Cubs, and improvements to Wrigley Field.
After New York, I was hired by the Cincinnati Reds as a Baseball Operations Analyst, a role that combined the worlds of roster construction, analytics, and scouting. Concurrently, I was earning my MBA from the University of Chicago Booth School of Business as I wanted to develop even more methods for process-oriented decision making and management. Thereafter, I briefly joined Google's Global Strategy team before accepting a coaching position with the Boston Red Sox. I wore #43, coached first base and my helmet was inducted into Cooperstown, home of the Baseball Hall of Fame. No matter my title or attire (there's nothing like wearing a jersey to work!), I continually seek new paradigms to shift and barriers to break. My Wildcat professors and fellow alumni wouldn't have it any other way.
Amy Eisenstein, History Major, Gender & Sexuality Studies Minor, WCAS class of '17
As a history major at Northwestern, I gained the practical skills I use every day as a policy professional. Thanks to rigorous coursework and dedicated professors, I refined my writing, communication, and analytical skills. The Northwestern History Department shaped my understanding of how power and privilege influence political decision making. My degree also gave me subject-matter expertise in the history of poverty in the U.S. and across the globe, which influenced my career interest in economic justice policy. I anticipate my work will continue to be deeply informed by my education in history. 
After graduating, I spent one year as a Fulbright English Teaching Assistant in the Mekong Delta region of Vietnam. Currently, I am a member of the Research and Policy Team at Heartland Alliance, where I manage a statewide coalition called Financial Inclusion for All Illinois. In this role, I organized and lobbied around the passage of the Predatory Loan Prevention Act which caps interest rates on harmful, wealth-stripping payday and auto-title loans in Illinois. 
Recently, I was admitted to both the Harvard Kennedy and Harvard Law Schools where I will pursue a joint JD/MPP beginning in the Fall of 2022. Additionally, I was awarded a fellowship through the Kennedy School's Center for Public Leadership. Zuckerman Fellows are selected on the basis of leadership abilities, intellectual and academic achievement, and a commitment to public service. I am very grateful to the History Department at Northwestern and the support of my thesis advisor, Professor Haydon Cherry, for making these achievements possible.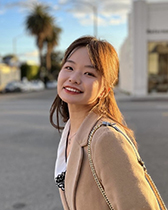 Amy Ouyang,
WCAS, 2021
After graduating with a degree in both history and journalism, I moved to Washington, D.C., to pursue my master's degree in International Relations with a concentration in China Studies and Strategy, Statecraft, and Security Studies at the School of Advanced International Studies at Johns Hopkins University. 
The history courses I took at Northwestern, including many in-depth seminars on the history of a particular region or time period, broadened my academic interests and eventually led me to shift from journalism to international relations for graduate school. Working on my senior thesis on the territorial dispute over the South C
hina Sea with Professor Peter Carroll allowed me to see the connections between my interests in journalism and history/international politics. Completing this year-long project further sparked my interest in studying and managing regional, interstate, and international conflicts. 
My study of history served as a strong foundation and paved the way for developing and broadening my academic interests and future career choices. It also allowed me to dive deeper into the nuances in international politics that might not be as obvious to other policy concentrators. 

Daniel Witte, History & Political Science Double Major, WCAS Class of '20, United States Navy
I arrived at Northwestern in the fall of 2016, right at the beginning of a particularly
turbulent period of political and social upheaval at home and abroad. As a young first-year student, I witnessed landmark events that challenged what I had known about history up until then. The Northwestern history department's diverse catalog of courses afforded me the opportunity to explore the gaps in my knowledge- from re-examining the things I thought I knew to the things I knew nothing about. More importantly, the faculty did an excellent job of teaching me to understand history through the lens of processes and structures, and to consider the importance of methodology as much as evidence. These tools not only deepened my appreciation for history, they also empowered me to embrace learning as a genuine avenue of
self-reflection and personal development.
I can state with full confidence that the history education I received at Northwestern
continues to shape how I approach my work as an officer in the U.S. Navy. Accomplishing my
day-to-day tasks requires me to apply the same judgment and analytical skills that I began to
refine as a student, while my exposure to a wide cross-section of historical narratives continues
to guide my perspective as I navigate through an increasingly complex world.
Hanqiao Charlie Lin, History/MMSS, WCAS 2015, Associate, Simpson Thacher & Bartlett LLP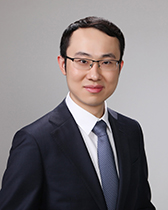 In a sense, the study of history is about rediscovering and reconstructing the stories and experiences that are lost in the sands of time, and then telling them to a contemporary audience. During my four years of undergraduate study, I was amazed by the incredible complexity of perspectives and interconnectedness hidden behind those distant yet intriguing stories and vivid personalities. Tracing the threads of history was a rewarding journey. I learned to evaluate the credibility of various sources, interpret primary materials in different contexts, and weave fragmented information and data points into coherent stories and arguments.
As a transactional lawyer, I continue to benefit from what I learned in Harris Hall. The cross-border transactions that I work on usually involve multiple parties with diverging interests and complex structures designed for various business, compliance and legal purposes. Therefore, it is crucial to understand different perspectives, think critically and holistically about the transaction structure, and communicate clearly and logically with all parties involved.  It was my undergraduate history study that taught me all of these skills.

Rachel Carpenter, History Major, WCAS '05
Global Head of Design Strategy, Citi 
My team brings the voice of the customer to life as we design new digital experiences for them around the world. We are focused on constant learning through user research, behavioral observation, data analysis, and cultural trend monitoring. We use those insights to decide what features are prioritized, how the experience is architected, and how it should be refined to better meet customer needs. Our products can be cool and new, but they aren't solutions if they don't solve a customer pain point or make the experience easier.
Being a History major honed my ability to conduct a strategic analysis and use a logical thought process to argue a point of view and make a decision. History is all about point of view and interpretation, and so is my role at Citi. While at Northwestern I focused on analyzing specific actions and decisions that resulted in world shifts; I now study human behavior, then draw conclusions and make recommendations of what we should do as a business. I can't let my own biases drive our decision making, but I am responsible for synthesizing the data and charting our course. I feel incredibly lucky my role allows me to shape the history of our company and our industry.

Andrew Celis, WCAS Class of '09
Program Coordinator, Public Service Venture Fund, Harvard University
The ability to think like a Historian has both framed and fostered my professional career. Understanding that events often have multi-layered causes and consequences and that individuals have the opportunity to play a positive role within them, has provided a platform from which to pursue a public-interest oriented career. Undergraduate training in History also provides the exceptionally useful ability to construct an argument and to communicate that argument clearly through both written and verbal means.
Since graduation, I've spent my professional life in the public sector. I've been privileged to have the opportunity to pursue a professional passion, spending years in public school classrooms and after-school programs as a teacher, staffer and volunteer. In my current work at Harvard, I administer a public service initiative, the Public Service Venture Fund, which annually provides up to $1 million dollars in grant funding to graduating students and recent alumni who are seeking to begin careers in public service. Without the context and skill set provided by my study of History at Northwestern, this type of career arc would simply not have been possible.

Jacob Kaucher, History/Journalism Double Major, 2009
Public Relations/Multimedia Producer, Rochester Institute of Technology
There is a popular saying in the media world that journalism is the first rough draft of history. As I have navigated the fast-paced twists and turns of storytelling in an era where rapid responses on social media drive content, the training I received as a history major at Northwestern has helped keep my reporting and writing in perspective. The research and critical thinking skills that the history department nurtures have allowed me to recognize the overlying themes at play within individual stories.
In my years since graduating, I have told the tales of victory and defeat as a television sports reporter and anchor. I have seen history in the making as athletes and teams broke records and programs transitioned from one era to another. My study of history helped me avoid the pitfall of declaring a particular player as "the best" or "the worst" simply because they were the most recent in fans' memories. In my new path in public relations and marketing as a multimedia producer at Rochester Institute of Technology, my history studies again provide a sturdy foundation as I highlight the stories of achievers and problem-solvers who are shaping the future. 

Erin Kerrigan, History Major, WCAS
Founder and Managing Director, Kerrigan Advisors 
Critical thinking and analytical reasoning have been incredibly important to my career in finance and investment banking. I learned these skills while obtaining my history degree at Northwestern.  These skills, along with the ability to write in a clear and concise manner, are the foundation upon which my career is built.  I think many college students believe they need a more quantitative degree to pursue a career path such as mine. To the contrary, the skills I learned from my history degree have differentiated me from the pack and have led to my success.
By its very nature, history is the study of trends, and the people who impact and are impacted by those trends. I think much of what makes me unique in finance is my ability to identify and discuss the significant trends impacting the industry I serve. I am regularly called upon to speak and write at conferences and to assess the current state of the M&A market. When negotiating on behalf of my clients, I am also required to present my thesis and support that thesis to obtain an optimal outcome on their behalf. Again, I credit my history degree from Northwestern in teaching me to think broadly, and more critically than my peers, and to present my views in a professional and persuasive manner. My history degree has enabled me to become an industry thought-leader and a top M&A advisor.

Nilda Mesa, History Major, WCAS
Director of Urban Sustainability and Equity Planning at the Urban Design Lab, Columbia University
After graduating with a History degree from Northwestern and earning a law degree from Harvard Law School, Nilda Mesa has spent her career working on issues of environmental sustainability. Mesa served in the Clinton Administration in key environmental policy roles at the White House Council on Environmental Quality, the U.S. Air Force, and at the U.S. Environmental Protection Agency as counsel to the NAFTA Taskforce, where she led U.S. legal negotiations with Canada and Mexico and implemented legislation related to trade and the environment.
Mesa was also the director of the New York City Mayor's Office of Sustainability, where she led the city's path-breaking long-term sustainability plan, overseeing environmental reviews and citywide policy development and implementation on such areas as energy, climate change, green building standards, recycling and the circular economy, environmental justice, air quality, water, parks and natural resources, and sustainable transportation.

Bethany Minor, History Major, Asian American Studies minor
Product Management and Software Development for a SaaS product
Bethany reports that her History degree has helped her tremendously in her career because "every history class I took required me to take in a large amount of facts and draw conclusions from them. Product development has many of these same elements. Each day I work with individuals who have different skill levels, seniority, and interests and must determine the best way to evolve my product while incorporating all of that feedback. At Northwestern, I learned to distil information down to its most basic points and create salient arguments to prove my understanding of a topic. I honestly believe that my experience studying at Northwestern allowed me the flexibility to pursue a number of different paths because the skill set that one acquires in the liberal arts is readily applicable to a great number of industries."

Anna Rennich, WCAS History Major, 2015
Researcher, Holocaust Memorial Museum
For every text panel, photo, and artifact you see in a museum exhibit, there is a curator and team of researchers who discovered and studied each of those elements. I am fortunate to be part of such a group in my role as a researcher for an upcoming special exhibition at the United States Holocaust Memorial Museum in Washington, DC. My journey to this career actually started as a History major in Harris Hall, where I worked for the exhibit's curator, Adjunct History Professor Daniel Greene, through the Office of Undergraduate Research's research assistant program. After graduating in 2015 with a history degree, I was hired to work on the exhibit full time.
In a lot of ways, my job is like being a professional history major. The exhibit that I am working on looks at how Americans understood the threat of Nazism before and during World War II. My assignments have ranged from charting public opinion on immigration, to finding anti-war ephemera, to writing a research brief on Secretary of Labor Frances Perkins. Like a research seminar, these projects send me digging in online databases, physical archives, and library stacks. Thanks to History Department faculty, I can analyze primary source documents, compare the perspectives of multiple secondary texts, and contextualize events to confidently create research findings, be it a research paper or a single artifact. While the exhibit does not open until 2018, I am already excited to see the final product and hope it will give visitors the same passion for this history that my time at Northwestern and Museum have given me!