In Memoriam: Jock McLane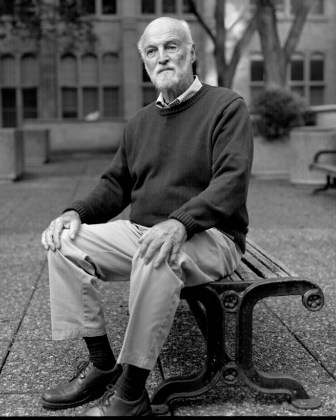 John Roy McLane
---
Jock would have loved this story. A retired colleague in the Sociology department was hiking in Harms Woods when she happened upon a log that had been refashioned into a bench. Adorning it was a simple plaque dedicated to her old friend, Jock McLane, "sit a bit with him," it said.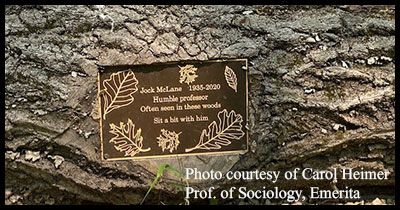 Plaque text: "Jock McLane 1935-2020 - Humble professor often seen in these woods - Sit a bit with him"  Photo courtesy of Carol Heimer, Prof. of Sociology, Emerita
It was so unexpected and heartwarming but also slightly bizarre. He would have laughed at her flummoxed reaction, eyes darting across the empty clearing, wondering if she was simply hallucinating. She took a photo and sent it to a group of faculty friends in the History, English, Sociology, and Neurobiology departments. None of us knew anything about the mysterious tribute, but it gave us an occasion to reminisce fondly about our late friend and colleague. Looking back on it, the story reflects Jock's profound influence on and friendship with generations of faculty across the entire university. Everyone knew him. That in itself is a testament to his decades of service to his institution and community. In fact, that was how the plaque came to be. Jock devoted every Wednesday morning engaged in prairie restoration work in Harms Woods. The other volunteers with whom he had labored so long and hard created the bench and attached the plaque dedicated to the memory of a "humble professor" whose life embodied the principle of service to others. 
For Professor McLane's in memoriam on our website, visit here.
By Melissa Macauley
June 2023