Alumni News
Gregory Antollino (BA '86) is counsel of record in Zarda v. Altitude Express (cert. granted sub nom Altitude Express v. Zarda), a case currently pending before the US Supreme Court to be argued on October 8. Zarda involves a man who was fired for identifying as gay in the workplace. The question for the Justices is whether sexual orientation is a subset of sex and thus covered by the Civil Rights Act of 1964, as amended. Gregory won the en banc rehearing in the US Court of Appeals for Second Circuit (the judicial district covering New York, Vermont and Connecticut). A decision in Zarda's favor was handed down in February 2018 by a margin of 10-3. Altitude Express successfully petitioned for certiorari. However, this does not mean the Altitude Express will win. Most commentators say that it is a 50-50 proposition. Zarda's case will be argued by Pamela Karlan, a veteran Supreme Court litigator who has argued to the high court 8 times. Zarda is also represented by the ACLU. Gregory was in the first Gay American History class taught by professor Michael Sherry in 1986.
Mark Berlin (BA '69) writes: "Now that I'm retired, I spend more time as a substitute teacher in Social Studies and Math in the Montgomery County (MD) Schools, and what I learned in my American history classes at Northwestern has really helped me add a new dimension to my American History classes that I fill in on."
Wayne H. Bowen (MA '92, PhD '96) continues as Professor of History and Director of Interdisciplinary Studies at the University of Central Florida. He has also served since February 2019 as interim Director of UCF Abroad. During summer 2019, he conducted funded research in Paris and Madrid on his next book project, "Spain and the Reformation," and as well as continuing work on Spain during the early Cold War, 1945-1955. Bowen entered his thirtieth year in the US Army Reserve and expects to retire from these military duties on June 1, 2020.
John Bredar (BS/BA '83) writes: "At the time I graduated, the University didn't grant double-majors across schools so I have a degree in Radio, TV and Film from the then School of Speech and the equivalent number of credits for a CAS degree in US History…. I have put that NU history degree to work here at WGBH in Boston where I am VP for National Programming overseeing the national shows we produce for PBS. These include five major series: FRONTLINE, NOVA, Antiques Roadshow, Masterpiece, and for the newsletter's purposes, American Experience. At Amex we are celebrating our 31st season and, I am both proud and sorry to say, we are the only ongoing, long-form American history documentary series on American television. We have just finished a season featuring our 6-part series on Apollo, Chasing the Moon, a masterwork from filmmaker Robert Stone, and a two-hour unprecedented look at Woodstock from Barack Goodman. We have a fascinating slate coming up in 2020 including McCarthy, The Poison Squad, which looks at the creation of the FDA, and next summer, a four-hour mini-series on suffrage, The Vote. My own American experience was hugely impacted by my US history courses at NU and the remarkable professors I was lucky to study under from Wiebe to Binford."
Michael Breidenbach (BA '08) signed a book contract with Harvard University Press to publish his history of How Catholics Became American. His edited volume, The Cambridge Companion to the First Amendment and Religious Liberty, will be released this spring. He was also recently appointed a Research Associate at the McNeil Center for Early American Studies at the University of Pennsylvania and a Thomas W. Smith Fellow at Villanova University.
Charlotte Brooks (PhD '02) writes: "I am currently professor of history at Baruch College, CUNY. My third book, American Exodus: Second-Generation Chinese Americans in China, 1901-1949 (University of California Press) is coming out any day now [released in August—ed.]…. On a strange note, I just found out that the Danville Correctional Center in downstate Illinois banned my first book, Alien Neighbors, Foreign Friends: Asian Americans, Housing, and the Transformation of Urban California (U Chicago Press, 2009), from a college-credit program that operates in the prison. Other banned books include DuBois' The Souls of Black Folk, so I feel honored to be in such company!"
Mary O. Brugliera (BA '57) writes: "In my senior year at NU, I took a course that I am sure no longer exists: Tutorial Correlative Reading. The only requirements were: read a book a week (!), meet with your professor also 1/week, and write a short paper on each book. I had the late Prof. Carl Condit, who was then working on his monumental work, The Chicago School of Architecture. He introduced me to the world of architecture, and to architecture in history. I was a general studies major, concentrating on American history to the Civil War, and medieval European history. Fast forward to spring, 1994: a couple of people had mentioned being a docent for the Chicago Architecture Foundation. I took the plunge, and went down for an interview. The director of docent training was extremely enthusiastic about my application for two reasons: having studied under Carl Condit (his text was required reading for docent trainees); and the fact that I am a descendent of Elisha Graves Otis, the inventor of the safety elevator. I was a member of the docent class of 1995, and am still an active docent, although I do threaten to retire from time to time."
After 12 years teaching U.S. and World History to middle schoolers, Asahel Church (BA '07) was admitted as a JD candidate at Penn State Dickinson School of Law and is currently a 1L [first-year student] in Carlisle, PA. Asahel lives in York, PA with his wife Laura and four kids Jericho (8), Moses (6), Shadrach (6), and Reuben (3).
Geoffrey Deibel (BA History/BM Saxophone Performance '02) was appointed Assistant Professor of Saxophone at Florida State University in the fall of 2018. This past summer, Dr. Deibel released his sixth commercial recording with the h2 quartet, and gave performances in Singapore, Thailand, and Italy. He was also the recipient of FSU's First Year Assistant Professor grant to commission and record new works for the saxophone by English composer Martin Iddon. He will be releasing a solo recording later this fall.
Margaret "Maggie" Donnelly (BS/BA '10) writes: "I am now teaching 7th Grade Social Studies at Sherwood Githens Middle School in Durham, North Carolina and I LOVE it. Shout out to Ken Alder, Joel Mokyr, Tony Hazard, Kathleen Belew, and the incredible history faculty at NU for helping me to fall in love with Social Studies over and over and over again and deciding to bring social justice curriculum to young American minds!"
Yuri Doolan (PhD '19) writes: "I've just started my first semester as an Assistant Professor of History and of Women's, Gender, and Sexuality Studies at Brandeis University, where I am also building an Asian American and Pacific Islander Studies program. I've also just recently had an article titled "Transpacific Camptowns: Korean Women, US Army Bases, and Military Prostitution in America" published in The Journal of American Ethnic History and am helping to curate an exhibit in Berlin on military prostitution in South Korea. The exhibit, which opens on September 12, 2019, will be permanently installed at the headquarters of Korea Verband—a German think tank working on Korean issues."
Ellen DuBois (PhD '75) writes: "My major book, Suffrage: Women's Long Battle for the Vote, will be published in February 2020 by Simon and Schuster. I'm also signing a contract with Basic Books to write a Big Biography of Elizabeth Cady Stanton. And last but not least [I got] married—for the first time—on September 1. Obviously I have retired or wouldn't have time or energy for all of this."
Chris Eckels (BA Comm '09, Theatre and History) graduated with a Juris Doctorate from the University of Utah S.J. Quinney College of Law in May 2019. He sat for the Utah Bar Exam at the end of July. During law school, he undertook interdisciplinary independent research in legal semiotics, leading to his May 2018 presentation "Us & Them: Symbols and Violent Identity Conflict" at the 19th International Roundtable for the Semiotics of Law at Örebro University in Örebro, Sweden. His first scholarly publication, a chapter entitled "The Antisocial Fabric: German and American Approaches to Flags as Hate Speech in Public Demonstration," will appear in Flags, Color, and the Legal Narrative: Public Memory, Identity, and Critique (Springer, forthcoming 2019).
Venita E. Fields (BA'71) was nationally recognized as a 2019 Director to Watch by Directors & Boards magazine. The article, "Gender Diversity in the Boardroom," focused on the importance and benefits of gender diversity in the board room. Ms. Fields currently serves as an Independent Board Director on one public and four private company boards. She has 40 years of investment experience as a corporate banker and a private equity professional. Ms. Fields is a member of the General Partnership that manages Pelham S2K Managers, LLC, a $100 million private debt fund. Ms. Fields received a Masters of Management Degree from the J.L. Kellogg Graduate School of Management.
Michael R. Fischbach (BA '80), Professor of History at Randolph-Macon College, is author of The Movement and the Middle East: How the Arab-Israeli Conflict Divided the American Left (Stanford University Press, October 2019). It is his second book on how the Arab-Israeli conflict affected American politics during the 1960s and 1970s, following up on his Black Power and Palestine: Transnational Countries of Color (Stanford University Press, 2018).
Joshua Furman (BA History '04, Jewish Studies minor) writes: "After earning a Ph.D. in modern Jewish history from the University of Maryland in 2015, I came to the Program in Jewish Studies at Rice University in Houston. Following Hurricane Harvey, I created the Houston Jewish History Archive (HJHA) in Rice's Fondren Library, to preserve and make accessible historical materials about Jewish life in South Texas, many of which were damaged and endangered by the storm. You can read more about it here.
Lauren L. Greenwood (BA/BS '07) graduated from the Drexel University Physician Assistant Program in 2014 and is working as an Orthopedic Physician Assistant in Chicago's northern suburbs.
Valerie P. Jiménez (PhD '18) is an Associate Producer for a historical documentary series that will be airing on NBC in 2020.
Barbara Kancelbaum (BA '87) is the VP for Communications & Marketing at Henry Street Settlement, the 126-year-old health care, arts, and social service agency on Manhattan's Lower East Side. The settlement in 2018 opened a permanent history exhibition in its headquarters, illuminating themes of social activism, urban poverty, and public health. "It's a joy—after a 30+ year career in communications—to be working on the history side!"
Douglas Kanter (BA '97) is associate professor and director of graduate studies in the department of history at Florida Atlantic University. He recently co-edited Taxation, Politics, and Protest in Ireland, 1662-2016.
Jonathan M. Katz (BA History/American Studies '02, MSJ '04) was a 2018-19 New America national fellow. A regular contributor to the New York Times and other publications, he is at work on a new book about Smedley Butler and the Marines who created America's empire. His first book, The Big Truck That Went By: How the World Came to Save Haiti and Left Behind a Disaster (Palgrave Macmillan 2013), was a PEN Literary Award finalist. His newsletter, The Long Version, has received widespread acclaim, featuring historical analysis on the news and exclusive interviews with figures like Rep. Alexandria Ocasio-Cortez.
Steven Koblik (PhD '70) writes: "I have very fond memories of my years at Northwestern, 1964-66. It was a very different time and place. Spent 23 years as an academic primarily at Pomona College and a number of years at Lund's University in Sweden. Went over to the 'dark side' first as Dean of Faculty, then President of Reed College, and then President of The Huntington Library, Art Collections, and Botanical Gardens for 14 years. Retired at 74. Active as a pro-bono consultant and on three major educational boards."
Beth Lipoff (BA/BSJ '06) won first place awards in feature reporting, sports reporting, magazine story and feature photojournalism in the large circulation newspaper category as well as in the feature reporting for trade publications category at the Society of Professional Journalists' Heart of America Awards. Her work covered a wide range of topics, including resettled refugees, veterans treatment courts and gymnastics.
James Lovett (BA '85) was named CEO of Myoderm on July 1. One daughter, Britt, is a senior at NU. James still reads history before bed every night, albeit for fewer hours than as a student at NU. James and his family live in Villanova, PA.
Andrew Majit, Au.D (BA '01) was awarded the Dale Doback Award for Excellence in the Performing Arts by the city of Corte Madera, California at this year's Catalina Wine Mixer. Andrew enjoys the freedom of expression, which acting in his troupe provides, when not practicing his day job of Audiology.
Chris Masello (MSEd '13) writes: "After getting my master's in education from Northwestern, which included several history courses, I taught AP European History for six years at Loyola Academy in Wilmette as well as several other courses in Social Studies. This year I became an instructional coach."
Fiona Maxwell (BA '18) is a second year History PhD student at the University of Chicago, where she received her MA in August 2019. Her research interests include nineteenth and twentieth century U.S. history, oral and literary culture, and the history of children and education. She recently received a grant through the UChicagoGRAD Global Impact Internship Program to fund an internship at the Center for Women's History and Leadership, where she works with the Frances Willard House Museum and Archives to explore nineteenth century women's public speaking and parlor performance. Fiona continues to teach youth theatre classes at the Piven Theatre Workshop.
R. Mark McCareins (BA '78) serves as a Clinical Professor at Kellogg where he teaches business law, antitrust and non profit governance throughout four of Kellogg's programs (full-time, part-time, executive MBA, and non-profit executive education). He also serves as General Counsel of the Metals Service Center Institute.
Last year, the Capital Law Review published "Misreading the Past: The Faulty Historical Basis Behind the Supreme Court's Decision in District of Columbia v. Heller," and the University Press of Massachusetts published The Last Great Colonial Lawyer: The Life and Legacy of Jeremiah Gridley, both by Charles R. McKirdy (PhD '69; JD '74).
Amy Nachman (BA '78) writes: "My emphasis was History of the U.S. South. Recently, I returned to my hometown of Montgomery, Alabama for the opening of the Memorial for Peace and Justice and the Legacy Museum. I am so proud of Bryan Stevenson's work at the Equal Justice Institute in Montgomery—exonerating wrongly accused death row inmates. And his memorial honoring lynching victims and trying to get us to face our painful history is so important and therapeutic."
Betty O'Brien (BA '56) writes: "My long career as a librarian continues in retirement at Frasier, in Boulder, CO, where I have served as the librarian of our small but active resident library since retiring 23 years ago."
Mary Ellen O'Connell, JD, PhD (BA '80) has published two books this summer:
Betty Olivera (BA '77) writes: "I am the Deputy General Counsel of Huron Consulting Group, a business consulting firm headquartered in Chicago, having just completed my twelfth year in the Huron legal department. I enjoy attending the Leopold Lecture each fall, joining other alumni of his class who make the trek each year. I also support Northwestern as a member of the Alumni Admissions Council and president of the house corporation board for the Tri Delta chapter on the NU campus."
After 17 years at Saint Xavier University, Graham Peck (PhD '01) has relocated to Springfield, Illinois, where he will be a Distinguished Professor of History at the University of Illinois Springfield. Helping him along the way was his first book, Making an Antislavery Nation: Lincoln, Douglas, and the Battle over Freedom (University of Illinois Press, 2017), which received the Russell P. Strange Memorial Book Award from the Illinois State Historical Society and was a finalist for the 2018 Gilder-Lehrman Lincoln Prize. He is excited to begin new projects on Lincoln and antebellum Illinois and to participate in the creation and development of the university's Center for Lincoln Studies.
Charley Pincombe (BA '14) writes: "Since leaving NU, I've started my career in procurement and strategic sourcing, working in IT procurement in public sector before starting the procurement function at a Chicago tech start-up. I'm now an Associate at McKinsey, focusing on procurement and product development."
Barbara M. Posadas (PhD '76) is CLAS Distinguished Professor of History Emerita at Northern Illinois University where she taught from 1974 until 2015. In April 2019, she received the Immigration and Ethnic History Society's Lifetime Achievement Award during the Organization of American Historians Annual Meeting in Philadelphia. She continues to serve on the IEHS Finance Committee and as a Fairness Reviewer for the U.S. Department of State Foreign Service Officer Test. In retirement, she especially enjoys spending more time with her spouse, Roland L. Guyotte (PhD '80), who began his 51st year of teaching at the University of Minnesota, Morris, in August 2019.
Michael D. Quear (BS '81) writes: "After 20 years of public service I retired.
2 years: U.S. Department of State, AAAS Science, Engineering & Diplomacy Fellow
18 years: Committee on Science & Technology staff , U.S. House of Representatives.
A special thank you to Professor Carl Petry for his encouragement during my NU days."
John F. Reiger (PhD '70) is enjoying retirement, especially fishing with his two young grandsons, and he continues to be active in scholarly endeavors. He is helping with a PBS documentary on conservationist and ethnographer George Bird Grinnell, the subject of his 1970 dissertation, and his essay, "For 'Generations Yet Unborn': George Bird Grinnell, Theodore Roosevelt, and the Early Conservation Movement," in Theodore Roosevelt: Naturalist in the Arena, edited by Char Miller and Clay Jenkinson, will be published this spring by the University of Nebraska Press.
Jim Sanders (PhD '80) writes: "Three activities predominate in the life of this alum. First, I have spent way too much time trying to convince 'the great and the good' that emerging market bonds can reasonably be considered financial IEDs, especially in the aftermath of Venezuela. A bank-to-bond shift among Third World countries means that they do not have to borrow from the IMF, but can float sovereign bonds. Even if a country's fundamentals are not stellar, investment firms seeking fees like to help, and retirees in the First World want the high yield. Second, Eileen and I regularly explore colonial Episcopal churches in rural Virginia and Maryland, and I play hymns, preludes, and offertory pieces on my trumpet in several that lack music staff. These historic structures are rich in history and material endowments such as Tiffany windows, centuries-old silver chalices, and hand-made baptismal fonts, but are lacking in parishioners to support priest and patrimony. Finally, the trumpet-playing, which recommenced a few years before retirement, occurs mostly in church 'orchestras,' and has improved thanks to the efforts of a U.S. Air Force Band trumpeter, with whom I study. She accepts no excuses."
Jim Schmotter (PhD '73) writes: "I find myself applying my historical background differently than I did during my time as a business school dean at Cornell, Lehigh and Western Michigan University and during the eleven years I served as President of Western Connecticut State University. Four years after retiring from Western Connecticut, I'm now, in my role as Secretary of the Board of Directors of the 2,300 member Naples (Florida) Council on World Affairs, engaged in educating an audience ranging from middle school students to retired CEOs on international affairs. This role has led to interesting engagement, in both Southwest Florida and Washington, with members of the diplomatic corps, think-tank universe and academia. Highlights have been many; lowlights (e.g. a luncheon with Sean Spicer) have been occasional. I've also become involved in college preparatory work with middle and high school students and directing quiz competitions on history and international affairs for high school teams from the region. This has given me a new appreciation of the dedication of high school history and social studies teachers and also of the challenges they face in today's public school environment. These activities, volunteering with Habitat for Humanity and continuing service on a public corporation's board of directors are making this new stage of my life rewarding and fun. And while my career journey has been, by historical profession standards, a non-traditional one, I've never forgotten the (sometimes tough) lessons I learned from Professors Leopold, Wiebe and, especially, my dissertation director, Tim Breen. They prepared me well, even if we all didn't know for what."
Joshua Schwartz (BA '15) writes: "I will be graduating from Columbia University School of International and Public Affairs (SIPA) with a Master of International Affairs at the end of 2019, after which I am planning to move to Washington, DC for work."
Brett Shadle (PhD African history '00) at some point angered the gods, who cursed him with an appointment as chair of the Department of History at Virginia Tech. He hopes to be able to continue writing the history of African refugees. Among the few bright spots of the job is getting to work with Carmen Khair Gitre (BA '95), Assistant Professor of Middle East History at VT.
David H. Stam (PhD '78), Senior Scholar, History Department, Syracuse University, will be publishing his Adventures in Polar Reading: The Book Cultures of High Latitudes, in November 2019. The book deals with the book collections of various polar expeditions and how reading helped explorers cope with the ennui of long polar nights. Included are essays on the books and libraries of Augustus Greely, Richard Byrd, The American Seamen's Friend Society, and Ernest Shackleton. It will be published by the Grolier Club of New York.
Peter Thilly (PhD '15) continues on as an Assistant Professor of History at the University of Mississippi with fellow NU History PhD Rebecca Marchiel ('14) and their two children, Bruce (3) and Maggie (1). During the 2019-20 academic year Peter is the recipient of an ACLS/Henry Luce Foundation Postdoctoral Fellowship. He will be using his time on leave to complete his book manuscript, Opium and Capitalism on the Chinese Maritime Frontier.
Arianne Urus (BA '09) completed her PhD in history from NYU in May of this year. She is currently a Lecturer on History and Literature at Harvard. She teaches classes on environmental justice and the history of the Atlantic World, and is writing a book about empire, environment, and law in the eighteenth-century Newfoundland cod fisheries. "Thank you to Sarah Maza and Henry Binford for teaching me how to be a historian!"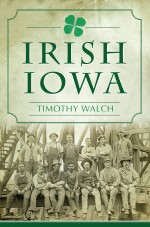 Timothy Walch (Ph.D. 1975) is director emeritus of the Herbert Hoover Presidential Library in West Branch Iowa. He retired as director in 2011 after a 33 year career with the National Archives and Records Administration. He is the longest-serving director of the Hoover Library. In retirement he volunteers in the Special Collections Department at the University of Iowa and at the State Historical Society of Iowa in Iowa City. He also has continued to research and write on a variety of historical topics. His most recent book is Irish Iowa (History Press, 2019). He is a regular commentator on Iowa Public radio and Minnesota Public Radio. More information on Tim and his work
Stacy Waldron (BA '87) writes: "I earned my PhD in counseling psychology in 1994 at USC and I am a licensed psychologist working in Lincoln, NE at Bryan Medical Center. I am the Vice-Chair of the Board of Psychology. I specialize [in working] with chronic pain patients. I have 2 beautiful daughters, 22 and 17."
Adam West (BA '93) just started his new posting for the US State Department at the US Embassy in Bangkok, Thailand.
William Willingham (PhD '72) writes: "I continue to work as a Consulting Historian and just published a new work: Collegiate Architecture and Landscape in the West: Willamette University, 1842-2012 (Salem, OR: Hallie Ford Museum, 2019). I am also at work on a book about the role of the Corps of Engineers in the American Revolution and the founding of West Point. I am now in my 23rd year as Consulting Historian, after 15 years as a historian for the Army Corps of Engineers, and 10 years as an academic historian."
John R. M. Wilson (PhD '71) is starting his 31st year teaching at Vanguard University in Southern California. After 29 years, he has stepped down as department chair. His most recent book is Jackie Robinson and the American Dilemma in the Library of American Biography.
James Wolfinger (PhD '03) writes: "I left DePaul University after sixteen years to become the next dean of the College of Education at Illinois State University. Along with my administrative duties, I continue to pursue my scholarly agenda. I have an edited collection on African American politics in Philadelphia under contract with Temple University Press, and I have finished the research for a book project on an American flyer in New Guinea during World War II."
Jeremy A. Yellen (BA '99) published his first book, The Greater East Asia Co-Prosperity Sphere: When Total Empire Met Total War, with Cornell University Press in April 2019.
Carol Zink (BA '77) writes: "This September I am going on a 'WWII Remembered' Stanford study tour, following the path of the 101st Airborne Easy Company, on whose exploits Band of Brothers is based. The trip is led by retired Professor James Sheehan, from whom I took many history courses at NU. He later taught at Stanford, and I have taken evening classes with him there. Prof. Sheehan can still lecture for two hours without notes—something I did not master in my late life career as a high school history teacher!"