Undergraduate Spotlights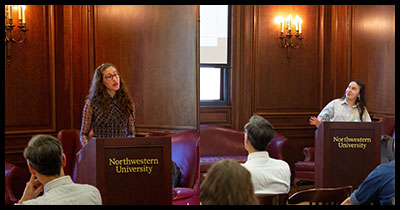 Featuring Carolina Stutz (pic. left) & Laurisa Sastoque (pic. right)
---
Carolina Stutz
I majored in History and minored in both Spanish and Portuguese. Under the mentorship of Professor Michelle Molina and Professor Keith Woodhouse, I wrote an honors thesis on the mass migration of Italian immigrants to Argentina in the late 19th and early 20th centuries. The project explores how immigrants' experiences of crowdedness onboard the ship and then in the capital, Buenos Aires, fundamentally shaped migrant relationality. Engaging with sources like newspapers and photographs in this investigation—which I began through summer grants—has been a highlight of my studies. I enjoy the creative dimension of the historical discipline, in which one attempts to piece together a compelling story on the basis of a wide array of sources. My interest in the themes of mobility, travel, and quotidian life have given way to another thesis project, this time situated in the early modern period, approximately the 16th-18th centuries. In September, I will be pursuing a Comparative History master's at Central European University in Vienna, where I will study how devotional objects shaped early modern Italian women's mobility in everyday life. I had the honor of receiving the Franklin N. and Lee L. Corbin Prize from Weinberg College, which will help jumpstart my studies.
Carolina Débora Stutz (she/her/hers)
Northwestern University, Evanston IL | Class of 2023
Major in History and Minors in Spanish and Portuguese
---
Laurisa Sastoque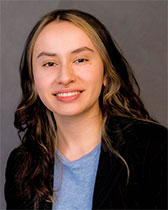 I am very honored to have been selected as this year's Senior Marshall for the History Department and as a Gates Cambridge Scholar at Cambridge University. As my time at Northwestern comes to an end, I am delighted to see the results of my efforts in the History major and in my academic career. To be selected as the Senior Marshall brings me great gratitude for the learning opportunities and unwavering support that the History faculty has offered me.  I declared my major winter of freshman year after taking only one History class. I did not yet know how to properly write a History essay, and at times I was concerned that my brain was not wired to think "like a historian." A few weeks ago, when I turned in my senior thesis in History, I was amazed at how far I had come, from struggling to write a 3-page essay, to producing an original piece of research.
This year too came with the amazing opportunity of a Gates Cambridge Scholarship at Cambridge University, where I will be pursuing an MPhil in Digital Humanities to turn my senior thesis into a digital, multimedia exhibition. My interest in Digital Humanities was first sparked by the Kaplan Humanities Program at Northwestern, and it was expanded during my coursework in History and English. The process of applying for the UK scholarships was lengthy and difficult, since my status as a non-U.S. international student significantly decreased my chances.
However, during my interview in Cambridge, I was surprised at my ability to steadily defend my project based on my knowledge of the War on Drugs, colonialism, and immigration history that I had acquired through my majors. My passion for these fields is what I believe compelled the interview panel to invest in my aspirations. Following my master's degree, I am hoping to work in the museum field for a few years, before returning to the U.S. to pursue a Ph.D. in History.
Laurisa Sastoque (She/Her/Hers)
Northwestern University, Evanston IL | Class of 2023 
Majors in Creative Writing (Fiction) and History