Mikala Stokes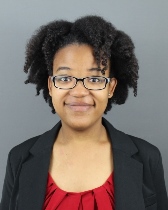 Biography
 Mikala Stokes is a doctoral candidate who specializes in nineteenth-century American history. Her research and teaching interests focus on race, gender, and politics in pre-Civil War America. Her dissertation entitled, "Born of 'Hardship, Trial, and Suffering:' Black Men, Family, and Activism, 1820-1861," explores the political activism and lived experiences of free African Americans in the sixty years before the American Civil War and the abolition of U.S. chattel slavery. She is particularly interested in the connection between Black people's personal lives and nineteenth-century black freedom struggles.
Prior to Northwestern, Mikala earned a B.A. from the University of Cincinnati in history with a minor in Political Science and a certificate in Screenwriting. She is originally from Cincinnati, Ohio. Stokes was drawn to academia for several reasons. An avid reader growing up, she loves being immersed in books. She also appreciates history's ability to change the boundaries of political debate. She seeks to help disrupt the historical myth-making that sometimes bolsters toxic political discourse.
Outside of her graduate program, Mikala is committed to making history accessible to wider audiences. She has worked on several public history projects that foreground African American cultural and political history in Chicago.
Back to top