Mikala Stokes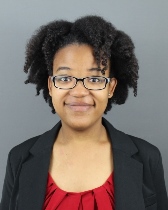 Biography
Mikala Stokes is a second-year PhD student at Northwestern University in the history department. Her research broadly focuses on the cultural and social lives of African Americans in the long nineteenth century. She is particularly interested in the connection between black people's personal lives and nineteenth-century black freedom struggles. Her dissertation will explore how this connection led black men and women to unique experiences of family and domestic life. Prior to Northwestern, Mikala earned a BA from the University of Cincinnati in history with a minor in Political Science and a certificate in Screenwriting.
She recently completed a project exploring the family lives of African American men through the lens of antebellum slave narratives. The paper discussed former enslaved men's use of close family relationships to liberate themselves from bondage.
Stokes was drawn to academia for several reasons. An avid reader growing up, she is most comfortable when reading and so loves being immersed in books. She also appreciates history's ability to change the boundaries of political debate in the U.S. She looks forward to the day when her work will help disrupt the historical myth-making that at times bolsters toxic political discourse.
Outside of her graduate program, Stokes is committed to making history accessible to wider audiences. In the summer of 2019, she worked on a public history project developed by Northwestern University Archives on the history of a 1960s sit-in that occurred on Northwestern's campus.
Back to top