Esther Ginestet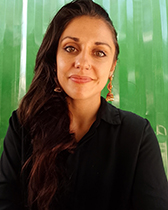 Field(s):  Africa
Specialization: Intellectual History, History of Gender and Ethnicity, History of Migrations
Advisor(s):  Jonathon Glassman; David Schoenbrun; Florence Bernault
Biography
Esther is a PhD candidate in the Departments of History of Northwestern University and Sciences Po University (Paris, France) as part of a dual-degree program. Her dissertation research, conducted under the supervision of David Schoenbrun, Jonathan Glassman, and Florence Bernault, explores the role that historical imagination has played in the social, political and intellectual life of the East African Great Lakes in the modern era, with a focus on Luo speakers.
More broadly, her work touches on Kenyan and African intellectual history, the history of gender, and the history of colonialism and its post-independence legacies. Her research in East Africa and elsewhere has won the support of various awards and fellowships, including the Martine Aublet/Quai Branly Research fellowship, the Northwestern-Sciences Po Program Fellowship, the French Institute of Research in Africa fieldwork grant and the Sciences Po fieldwork grant. She has presented her findings in France, in the United States, and in Kenya (her lecture delivered at the University of Nairobi in October 2022 is available online, here).
Beyond her research pursuits, Esther is a devoted teacher. In addition to her experience as a teaching assistant and a discussion section leader both in the United States and in France, she is a trained secondary school teacher. She has taught history, geography and civics in a French public high school located in the outskirts of Paris to students aged fourteen to eighteen (Lycée Albert Schweitzer, Seine-Saint-Denis). As part of her daily classroom practices and her own didactic research, she is interested in the creation of pedagogical situations and materials that encourage every student to develop conjointly essential social and intellectual skills such as storytelling, writing, primary source analysis, debating, and public speaking. She has also worked as a jury member for college admissions in France. These professional experiences, combined with her research on narratives and school education in modern Africa, inform her approach to history and civics teaching as a tool for social mobility and social change.
Back to top