Emily Lyon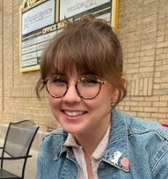 Field(s):  United States
Specialization: 19th Century U.S. History, U.S. Empire, Gender, Race
Advisor(s):  Susan J. Pearson
Biography
Emily is a PhD Candidate in History. Her dissertation looks at white women's role in sustaining US colonial power through their production of an imperial visual culture between 1870 and 1930. Her work brings together women photographers, mapmakers, travel writers, exhibition creators, and educators—or, visual culture producers—across different geographical sites of empire in the Pacific, Caribbean, and North American continent. It asks how white women's production of the visual materials of empire, which would be consumed by Americans across the country, helped to sustain US imperial ambitions, (re)constructed white womanhood, extended imperial domesticity into new areas, and shaped the relationship between the colonized and colonizer.
Before coming to Northwestern, Emily received her B.A. in History and B.A. in Spanish from Indiana University. She is invested in bringing history to a wider public audience and has been a fellow in the Chicago Humanities Initiative through Northwestern's Center for Civic Engagement, during which she interned in Public Programs at the Newberry Library. She was also a fellow in the Chabraja Center for Historical Studies summer fellowship in public history, during which she researched, wrote, and edited reports on historic homes for the Rogers Park and West Ridge Historical Society.
She has been a participant in multiple digital and public humanities workshops, too. While at Indiana University, she worked on projects for the Wylie House Museum and on a year-long project to write an historical tour of the campus for visitors. Outside of her work, Emily enjoys traveling, baking, analyzing the intricacies of reality television, tabletop and video games, and spoiling her cat, Oliver.
Back to top