Daniel Greene
Adjunct Professor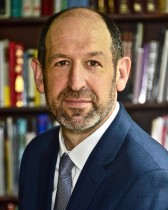 Interests
Geographic Field(s):  American History, Since 1900; Modern European History: Central/Eastern Europe
Principal Research Interest(s):  Public History, Holocaust History and Memory, US History, Modern Jewish History
Biography
Daniel Greene (Ph.D., University of Chicago, 2004) is President and Librarian at the Newberry Library in Chicago and adjunct professor of history at Northwestern. In 2018, he curated Americans and the Holocaust, an exhibition that opened at the US Holocaust Memorial Museum in Washington, DC, to commemorate its twenty-fifth anniversary. Greene was appointed a Distinguished Lecturer by the Organization of American Historians in 2015. He serves on the nominating committee of the American Historical Association, the academic council of the American Jewish Historical Society, and the board of directors of the Center for New Deal Studies at Roosevelt University.
Publications
Teaching Interests
Museums and Public History.
Holocaust History and Memory. 
Recent Awards and Honors 
Organization of American Historians, Distinguished Lecturer, 2015–present.
Saul Viener Prize, awarded by the American Jewish Historical Society for best book in American Jewish History over a two-year period, 2011–12.
Back to top