Rajeev Kinra
Associate Professor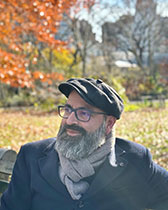 847-467-1241
Harris 307
Office Hours: Fridays 2:00 to 4:00pm
Interests
Geographic Field(s):  Asian History; Middle Eastern and North African History; Modern European History: Britain and Its Empire; Global History
Thematic Field(s):  Religious History
Principal Research Interest(s):  South Asian & Global History
Biography
Rajeev Kinra (Ph.D., University of Chicago, 2008) is a cultural historian of early modern South Asia, with a special emphasis on the literary, intellectual, religious, and political cultures of the Mughal and early British Empires in India (~16th-19th centuries).  His research draws on several linguistic traditions (especially Persian, but also Hindi-Urdu and Sanskrit), to examine diverse modes of civility, tolerance, cosmopolitanism, and cultural modernity across the Indo-Persian and Indian Ocean worlds. Many of these themes are also explored in his recent book on the life, Persian writings, and cultural-historical milieu of the celebrated Mughal state secretary and poet, Chandar Bhan "Brahman" (d. ~1670), Writing Self, Writing Empire: Chandar Bhan Brahman and the Cultural World of the Indo-Persian State Secretary (University of California Press, 2015), part of the award-winning "South Asia Across the Disciplines" series.  Kinra has been the recipient of numerous fellowships and awards, including a research fellowship from the National Endowment for the Humanities (2010-11), and most recently a "Big Ideas" grant from Northwestern's Buffett Institute for Global Studies to launch (with co-director Laura Brueck) a new Global Humanities Initiative.
Kinra is a member of the international research group Perso-Indica, and serves on the advisory board, or Collegium, for the Berlin-based research project known as Zukunftsphilologie ["Future Philology"]: Revisiting the Canons of Textual Scholarship, as well as the editorial board for the journal Philological Encounters. He also serves on the academic council for the South Asian American Digital Archive (SAADA).
Kinra currently serves as the Director of Northwestern's Asian Studies Program (ASP) (2015-18), and co-director of Northwestern's Global Humanities Initiative (GHI).  He is also an affiliated member and/or serves on the advisory committees of several other departments and programs, including:
Affiliated Programs
Publications
Teaching Interests
Kinra regularly teaches lecture courses on Early Modern India (HIS 385-1) and Modern South Asia (HIS 385-2), as well as Part One of the department's Global History sequence (HIS 250-1).
He has also explored a wide range of topics related to South Asian and global history with students in a variety of seminars. Recent examples include:
Literary Cultures of Mughal India (undergraduate)
Afghanistan: From Alexander the Great to the Anglo-Afghan Wars (undergraduate)
The Languages of Political Islam in India, ~1200-1800 (undergraduate)
Indiana Jones in Historical Context: Heroic Scholarship and the Imperial Imagination (undergraduate)
What is Global History? (graduate)
The Indian Ocean World: Trade, Culture, and Politics, from Antiquity to 1800 (graduate)
Recent Awards and Honors
"Big Ideas" grant from Northwestern University's Buffett Institute for Global Studies (in conjunction with the Alice Kaplan Institute for the Humanities) to launch a new "Global Humanities Initiative," 2015-2018 

National Endowment for the Humanities (NEH) Research Fellowship, 2010-11

Virani Lectureship in Islamic Studies, University of British Columbia, Vancouver, Spring 2009