Paul Ramírez
Associate Professor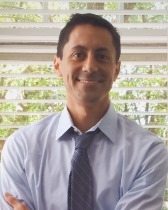 847-491-7444
Kresge 3-213
Office Hours: Thursdays 2 to 3:00pm and by appointment
Interests
Geographic Field(s):  Latin American and Caribbean History; Global History
Thematic Field(s):  Religious History; History of Science, Technology, and Medicine
Principal Research Interest(s):  Mexico; History of Medicine; History of Religion
Biography
Paul Ramírez (Ph.D., University of California, Berkeley, 2010) is a specialist in the history of Mexico. He has published articles and book chapters on the coordination of response to disease epidemics, the cultural and religious aspects of medical technology, and the politics of reform in Bourbon Mexico. His book monograph, titled Enlightened Immunity: Mexico's Experiments with Disease Prevention in the Age of Reason (Stanford University Press, 2018), examines the rituals, genres, and upheavals in medicine and politics that accompanied efforts to adopt preventive methods in rural Mexico. His second book project, tentatively titled Salt of the Santos: A History of Devoted Work, explores the neglected religious associations involved in the harvest and consumption of salt in Mexico. His research has been supported by the Newberry Library, the Huntington Library, the University of California's Institute for Mexico and the U.S. (UC MEXUS), Harvard's David Rockefeller Center for Latin American Studies, and the Notre Dame Institute for Advanced Study. 
Affiliated Programs
Latin American and Caribbean Studies Program 
Science in Human Culture Program
Publications
Books
Articles and Book Chapters
Teaching Interests
Professor Ramírez teaches lecture courses on the broader history of Latin America, including courses on disease and healing and on the status of native Americans within nation states, as well as seminars on European conquest, Catholic practice, and the records of the Inquisition.
History 103: Conquest in Latin America
History 260-1: Colonial Latin America
History 300: Sickness and Health in Latin America
History 366: Liberalism and the Indian Problem
History 393: Catholicisms in the Americas (Approaches to History)
History 395: Society and Inquisition (Research Seminar)
Recent Awards and Honors
Distinguished Fellow, Notre Dame Institute for Advanced Study, 2016-2017
Consortium for American Indian Studies Faculty Fellow, Newberry Library, 2016-2017
Back to top