Michael J. Allen
Associate Professor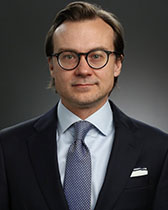 847-491-7172
Harris 204
Office Hours: Thursdays 4:00pm to 6:00pm
Interests
Geographic Field(s):  American History, Since 1900
Thematic Field(s):  War and Empire in History
Principal Research Interest(s):  U.S. Political and Diplomatic History
Biography
Michael J. Allen (Ph.D., Northwestern University, 2003) researches US political culture. His book Until The Last Man Comes Home: POWs, MIAs, and the Unending Vietnam War (University of North Carolina Press, 2009) examined the political and cultural legacies of American defeat in the Vietnam Wars through a history of the POW/MIA movement. His current book-in-progress Paradoxes of Power: The Imperial Presidency, the Democratic Party, and the New Politics of Reform, 1933-1981 explores the fraught relationship between the pragmatic left and presidential power from Franklin Roosevelt to Ronald Reagan as a means to explain the realignment of US party politics and a broader retreat from liberal reform since the 1960s.
Publications
Until the Last Man Comes Home: POWs, MIAs, and the Unending Vietnam War, University of North Carolina Press, 2009, paperback July 2012.
"'Sacrilege of a Strange, Contemporary Kind': The Unknown Soldier and the Imagined Community After the Vietnam War," History & Memory, Vol. 23, no. 2 (Fall/Winter 2011): 90-131.
"'Help Us Tell the Truth About Vietnam': POW/MIA Politics and the End of the American War," in Making Sense of the Vietnam Wars: Local, National, and Transnational Perspectives, edited by Mark Philip Bradley and Marilyn B. Young, 251-75, Oxford University Press, 2008.
Teaching Interests
My teaching, like my research, focuses on modern US History, with particular emphasis on 20th-century political and diplomatic history, the fields in which I accept and train graduate students. At the undergraduate level, I teach lecture courses on the Vietnam Wars, the United States Since 1968, and the second half of the US survey along with seminars on war and society and US politics. I have advised four finished Ph.D. dissertations and am currently primary adviser to one other Ph.D. student. And I have advised eleven undergraduate honors theses. In 2021 he was named Charles Deering McCormick Professor of Teaching Excellence.
Recent Awards
Kaplan Institute for the Humanities Fellowship, 2015-16.
Dirksen Congressional Center Research Award, 2012, 2000.
Friends of the Princeton University Library Research Grant, 2011.
Gerald R. Ford Foundation Research Grant, 2010, 2000.
Back to top