Michael J. Allen
Associate Professor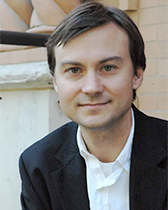 Interests
Geographic Field(s):  American History, Since 1900
Thematic Field(s):  War and Empire in History
Principal Research Interest(s):  U.S. Political and Diplomatic History
Biography
Michael J. Allen (Ph.D., Northwestern University, 2003) researches US politics and diplomacy in the 20th-century. His book Until The Last Man Comes Home: POWs, MIAs, and the Unending Vietnam War (University of North Carolina Press, 2009) examined the politics of loss that emerged from American defeat in the Vietnam Wars through a history of the POW/MIA movement. His current work-in-progress New Politics: The Imperial Presidency, The Pragmatic Left, and the Problem of Democratic Power, 1933-1981 treats evolving left-liberal relations to presidential power in the postwar era. Focused on the interplay between leading left-liberal thinkers, grassroots activists, beltway politicians, and presidential politics, it argues that growing skepticism toward the presidency on the political left led to the realignment (and polarization) of US party politics, and a broader retreat from liberal reform since the 1960s.
Publications
Until the Last Man Comes Home: POWs, MIAs, and the Unending Vietnam War, University of North Carolina Press, 2009, paperback July 2012.
"'Sacrilege of a Strange, Contemporary Kind': The Unknown Soldier and the Imagined Community After the Vietnam War," History & Memory, Vol. 23, no. 2 (Fall/Winter 2011): 90-131.
"'Help Us Tell the Truth About Vietnam': POW/MIA Politics and the End of the American War," in Making Sense of the Vietnam Wars: Local, National, and Transnational Perspectives, edited by Mark Philip Bradley and Marilyn B. Young, 251-75, Oxford University Press, 2008.
Teaching Interests
My teaching, like my research, focuses on modern US History, with particular emphasis on 20th-century political and diplomatic history, the fields in which I accept and train graduate students. At the undergraduate level, I regularly teach the second half of the US History survey along with lecture courses on the Vietnam Wars, the United States Since 1968, and seminars on war and society and US political culture. I have advised three finished Ph.D. dissertations and am currently primary adviser to one other Ph.D. student. And I have advised eight undergraduate honors theses. In 2013 I was named to the Associate Student Government faculty honor roll.
Recent Awards
Kaplan Institute for the Humanities Fellowship, 2015-16.
Dirksen Congressional Center Research Award, 2012, 2000.
Friends of the Princeton University Library Research Grant, 2011.
Gerald R. Ford Foundation Research Grant, 2010, 2000.
Back to top