Lydia Barnett
Associate Professor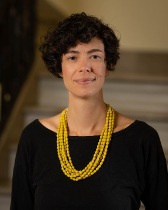 847-491-7421
Harris 305
Office Hours: Wednesdays 2pm - 4pm
Interests
Geographic Field(s):  Medieval and Early Modern European History
Thematic Field(s):  Gender and Sexuality History; Religious History; History of Science, Technology, and Medicine; Environmental History
Principal Research Interest(s):  Early Modern Europe; History of Science; Environmental History
Biography
Lydia Barnett (Ph.D., Stanford University, 2011) is a historian of early modern Europe with a focus on Italy, Britain, and the Atlantic world and thematic interests in science, religion, gender, and the environment. Her first book, After the Flood: Imagining the Global Environment in Early Modern Europe (Johns Hopkins University Press, 2019), illuminates religion's hidden role and complicated legacy in the emergence of a global environmental consciousness. From the late Renaissance through the early Enlightenment, and coincident with the Scientific Revolution and the Little Ice Age, Protestant and Catholic writers from across Europe and its American colonies drew on the biblical story of Noah's Flood as a means of imagining the human capacity to destroy nature on a planetary scale, as well as human suffering from the environmental consequences of their own unintended actions. She is currently working on a second book project on invisible labor and gender in the eighteenth-century earth and environmental sciences. Her research has been supported by the National Science Foundation, the Charlotte Newcombe Foundation, the Gladys Krieble Delmas Foundation, and the Michigan Society of Fellows.
Publications
Books
Articles and Book Chapters
"Showing and Hiding: The Flickering Visibility of Earth Workers in the Archives of Earth Science," History of Science (Pre-published Oct. 23, 2019)
"Giant Bones and the Taunton Stone: American Antiquities, World History, and the Protestant International," in Empires of Knowledge: Scientific Networks in the Early Modern World, ed. Paula Findlen (Routledge, 2019), 225-45
"Strategies of Toleration: Talking Across Confessions in the Alpine Republic of Letters," Eighteenth-Century Studies 48, no. 2 (2015): 141-57
"The Theology of Climate Change: Sin as Agency in the Enlightenment's Anthropocene," Environmental History 20 (2015): 217-237
"Between Pleasure and Terror: Enlightenment Science and Maupertuis' Letter on the Comet," 'Terra Firma' special issue of Architectural Theory Review, 20, no. 1 (2015): 30-45
Teaching Interests
Professor Barnett teaches a variety of graduate and undergraduate courses in the history of science, environmental history and environmental studies, gender history, global history, and European history.
History 101: Gender and Science from the Middle Ages to the Present
History 201-1: Europe in the Medieval and Early Modern World
HIstory 251/EPC 390: The Politics of Disaster: A Global Environmental History
History 275-1: Science and Medicine in Early Modern Europe
History 395: Nature and Empire
History 430-2: Field Seminar in Early Modern European History
History 492/HUM 395: The Anthropocene and the Environmental Humanities
She welcomes applications from graduate students working in the history of early modern Europe and the North Atlantic world (16th-18th centuries), especially those interested in science, medicine, climate, the environment, race, gender, and decolonial approaches.
Recent Awards and Honors
2019 Morris D. Forkosch Prize for the best first book in intellectual history, from the Journal of the History of Ideas
2020 Kenshur Prize (shortlisted) for the best book in eighteenth-century studies, from the Center for Eighteenth-Century Studies at the University of Illinois-Bloomington