Kathleen Belew
Associate Professor
American Studies (MA, MPhil, PhD), Yale University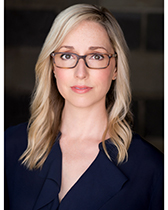 Office Hours: Mondays 10am to 12pm
Interests
Geographic Field(s):  American History, Since 1900
Thematic Field(s):  Environmental History; War and Empire in History; Political and Policy History
Principal Research Interest(s):  History of the Present
Biography
Kathleen Belew is a historian, author, and teacher. She specializes in the history of the present. She spent ten years researching and writing her first book, Bring the War Home: The White Power Movement and Paramilitary America (Harvard, 2018, paperback 2019). In it, she explores how white power activists created a social movement through a common story about betrayal by the government, war, and its weapons, uniforms, and technologies. By uniting Ku Klux Klan, neo-Nazi, skinhead, and other groups, the movement mobilized and carried out escalating acts of violence that reached a crescendo in the 1995 bombing of Oklahoma City. This movement was never adequately confronted, and remains a threat to American democracy. Her next book, Home at the End of the World, illuminates our era of apocalypse through a history focused on her native Colorado where, in the 1990s, high-profile kidnappings and murders, right-wing religious ideology, and a mass shooting exposed rents in America's social fabric, and dramatically changed our relationship with place, violence, and politics (Random House).
Belew has spoken about Bring the War Home in a wide variety of places, including The Rachel Maddow Show, The Last Word With Lawrence O'Donnell, AC 360 with Anderson Cooper, Frontline, Fresh Air, and All Things Considered. Her work has featured prominently in documentaries such as Homegrown Hate: The War Among Us (ABC) and Documenting Hate: New American Nazis (Frontline). Belew is an Associate Professor of History at Northwestern University. She earned tenure at the University of Chicago in 2021, where she spent seven years. Her research has received the support of the Chauncey and Marion Deering McCormick Foundation, the Andrew W. Mellon Foundation, and the Jacob K. Javits Foundation. Belew earned her BA in the Comparative History of Ideas from the University of Washington, where she was named Dean's Medalist in the Humanities. She earned a doctorate in American Studies from Yale University.
Belew has held postdoctoral fellowships from the Center for Advanced Study in the Behavioral Sciences at Stanford University (2019-20), Northwestern University, and Rutgers University. Her award-winning teaching centers on the broad themes of history of the present, conservatism, race, gender, violence, identity, and the meaning of war. Belew is co-editor of and contributor to A Field Guide to White Supremacy, and has contributed essays to Myth America and The Presidency of Donald J. Trump: A First Historical Assessment.