Ji-Yeon Yuh
Associate Professor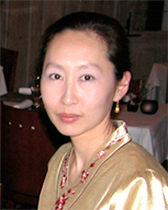 Interests
Geographic Field(s):  Global History; American History, Since 1900
Thematic Field(s):  Gender and Sexuality History
Principal Research Interest(s):  Diaspora and International Migration; Race and Gender; Asian American History; Oral History; Memory; U.S. Militarism, Korean Diaspora, Camptowns
Biography
Ji-Yeon Yuh (Ph.D., University of Pennsylvania, 1999) teaches Asian American history, Asian diasporas, race and gender, and oral history. Her current projects include Asian Diasporas Digital Archive, a digital oral history repository at the Northwestern Library; "Performing History: Documenting and Enacting the Asian American Midwest," an oral history and performance project with scholars at the University of Wisconsin-Madison, funded by the Humanities Without Walls consortium; Memories of War, an undergraduate research seminar and oral history project on the life narratives of Vietnamese and Korean Americans; and a book on Korean diasporas in China, Japan, and the United States. Active in community organizations, she is a co-founder of the Alliance of Scholars Concerned about Korea, a board member of Korea Policy Institute, and former board president of KANWIN, a Korean American women's organization focusing on domestic violence. She is a native of Seoul and Chicago, a former journalist, and a fan of genre fiction.
Affiliated Programs
Publications
Beyond the Shadow of Camptown: Korean Military Brides in America, New York University Press, August 2002 (Korean translation published March 2007, SamIn Press, Seoul, Korea). A history of Korean women who immigrated to the United States as the wives of U.S. soldiers, this work examines the dynamics of race, culture, gender and nationalism from the perspective of Korean military brides.
"Moved By War: Migration, Diaspora, and the Korean War." Journal of Asian American Studies, Vol. 8, No. 3, Oct. 2005. pp. 277-292.
"Imagined Community: Sisterhood and Resistance Among Korean Military Brides," in Asian Pacific Islander American Women: A Historical Anthology, edited by Shirley Hune and Gail Nomura, New York University Press, 2003, pp. 221-236.          
"Out of the Shadows: Camptown Women, Military Brides and Korean (American) Communities." Hitting Critical Mass: A Journal of Asian American Cultural Criticism, vol. 6, no. 1: Fall 1999. pp. 13- 34.
Teaching Interests
Fields of Doctoral Advisees
Asian American history.
Asian diaspora.
War, Migration, and U.S. Militarism.
Past Students
Stephen Mak, June 2009, "The Other Internment: The United States, Latin America, and 'Enemy Aliens' during the Second World War."
James Zarsadiaz, June 2014, "Where the Wild Things Are: 'Country Living,' Asian American Suburbanization, and the Politics of Space in Los Angeles' East San Gabriel Valley, 1945-2005."
Phonshia Nie, December 2014, "Walking the Line: Chinese Americans and Jim Crow, 1920 -1970."
Joy Sales, June 2019, "Diasporic Struggle: Transnational Activism, Migration, and Anti-Imperialism in Filipino America, 1964-1991."
Yuri Doolan, June 2019, "The First Amerasians: Mixed Race Koreans from Camptowns to America."
Undergraduate Courses
History 102: Frosh Seminar, Asian American Memoirs.
History 102: Frosh Seminar, Controversial Lives.
History/AAS 214-0-20: Introduction to Asian American History.
History/AAS 216: Global Asians.
History/AAS 304: Asian American Women's History.
AAS 370: Korean Diasporas.
AAS 320/History393: Memories of War.
Graduate Courses
GSS 490 and History 405: Comparative Race and Gender.
History 405: Oral History Methods and Theories.
Back to top