David Shyovitz
Associate Professor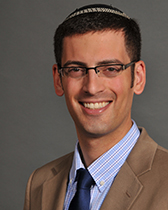 Interests
Geographic Field(s):  Medieval and Early Modern European History; Modern European History: Central/Eastern Europe
Thematic Field(s):  History of Science, Technology, and Medicine; Religious History
Principal Research Interest(s):  Jewish History, Medieval European History
Biography
David Shyovitz (Ph.D., University of Pennsylvania, 2011) is an Associate Professor in Northwestern's History Dept., and Director of the Crown Family Center for Jewish and Israel Studies. His research focuses on medieval European intellectual and cultural history, with a particular emphasis on Jewish history and Jewish-Christian relations. He is the author of A Remembrance of His Wonders: Nature and the Supernatural in Medieval Ashkenaz, published by the University of Pennsylvania Press in 2017. His current book project, "O Beastly Jew!" Jews, Animals, and Jewish Animals in the Middle Ages, explores the overlapping ways in which Jewish and Christian authors and artists distinguished humans from animals, and Jews from Christians, over the course of the Middle Ages.
Affiliated Programs
Publications
Teaching Interests
Recent Course Offerings:
HIST 101: The Crusades.
HIST 201-1: European Civilization I (1000-1750).
HIST 203-1: Jewish History, 750-1492.
HIST 300: Jewish Messianic Movements.
HIST 347: Christians and Jews.
HIST 393: The Blood Libel.
HIST 392-95: Nature and the Supernatural in the Middle Ages.
HIST 392-95: Jewish Law.
HIST 492: Jews in Medieval Europe (Graduate Seminar).
Recent Awards and Honors
Van Courtlandt Elliott Prize, awarded by the Medieval Academy of America to "Christians and Jews in the Twelfth Century Werewolf Renaissance" (2016).
Memorial Foundation for Jewish Culture, International Fellowship in Jewish Studies and Jewish Culture (2015-16).
Yad Hanadiv/Beracha Foundation Fellowship, Jerusalem, Israel (2014-15).
Back to top