Daniel Immerwahr
Bergen Evans Professor in the Humanities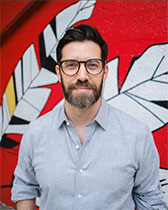 847-491-7418
Harris 225
Office Hours: W 3-4:50, Fr 3-4:50
Interests
Geographic Field(s):  Global History; American History, Before 1900; American History, Since 1900
Thematic Field(s):  Economic and Labor History; War and Empire in History; History of Science, Technology, and Medicine
Principal Research Interest(s):  US foreign relations; global history; United States empire
Biography
Daniel Immerwahr (Ph.D., Berkeley, 2011) is Bergen Evans Professor in the Humanities. His first book, Thinking Small (Harvard, 2015), offers a critical account of grassroots development campaigns launched by the United States at home and abroad. It won the Merle Curti Award in Intellectual History from the Organization of American Historians and the Society for U.S. Intellectual History's annual book award. His second book, How to Hide an Empire (Farrar, Straus and Giroux, 2019), is a narrative history of the United States that brings its overseas territory into the story. It was a national bestseller, a New York Times critic's choice for one of the best books of 2019, and the winner of the Robert H. Ferrell Prize from the Society for Historians of American Foreign Relations. Immerwahr's writings have appeared in the New York Times, The Guardian, The Atlantic, The New Yorker, the Washington Post, Harper's, The New Republic, The Nation, and the New York Review of Books,  among other places. He is now writing a fire history of the United States.
More information and many of Immerwahr's writings are available at his website.
Affiliated Programs
Publications
Teaching Interests
Immerwahr regularly offers undergraduate courses on global history and U.S. foreign relations. He has taught graduate seminars on international development, global history, modern empires, the United States' empire, and pedagogy. His syllabi are online here.
Recent Awards and Honors
Charles Deering McCormick Professorship in Teaching Excellence, 2023–2026

Robert H. Ferrell Book Prize, Society for Historians of American Foreign Relations, 2020
Finalist (second place), Mark Lynton History Prize, Columbia University, 2020
E. Leroy Hall Award for Excellence in Teaching, Weinberg College, Northwestern University, 2019–2020
Last Lecture, Northwestern University Class of 2019
Andrew Carnegie Fellowship, 2017-18.
National Endowment for the Humanities Fellow, Huntington Library, 2015–2016.
Stuart L. Bernath Lecture Prize, Society for Historians of American Foreign Relations annual award for "excellence in teaching and research in the field of foreign relations" by a younger scholar, 2015.