Akin Ogundiran
Professor of History, Cardiss Collins Professor of Arts and Sciences
Ph.D., Boston University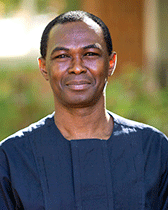 847-491-8963
Harris 316
Office Hours: Tue/Thur. 9-10 am; Wed. 2-3 pm
Interests
Geographic Field(s):  African History
Thematic Field(s):  War and Empire in History; Urban History; Gender and Sexuality History; Colonial, Imperial, and Diasporic History; Religious History; African Diaspora and African American History; Environmental History
Principal Research Interest(s):  Africa since 500 BC
BIOGRAPHY
Akin Ogundiran (Ph.D., Boston, 2000) is broadly interested in the archaeology and history of Africa over the past 2,500 years, with emphasis on the Yoruba world (West Africa). His earlier research efforts sought to understand the impacts of global/regional political economies on community formations and how social actors created knowledge, communities, and identities with objects and the landscape. Ogundiran's current research intersects cultural, political economy, and environmental approaches to study the history of complex social systems at different scales—e.g., household, urbanism, and empire. His ongoing field projects are in three parts: the archaeology and history of an Early Iron Age community formation (400 BC-100 AD); the political economy and social ecology of the Oyo Empire (1570-1830); and the landscape history of the Osun-Osogbo Grove—a UNESCO World Heritage Site (ca. 1590 to the present), all in southwest Nigeria. His methodology is eclectic, ranging from archaeology, orality, and ritual archives to geosciences, landscape studies, language, performance, material life, and documentary sources. He is also interested in the cultural history of the Black Atlantic. Ogundiran directs the Material History Lab in the Department of History.
Dr. Ogundiran has received support for his research from the National Geographic Society, Archaeological Institute of America, National Humanities Center, Carnegie Foundation, Dumbarton Oaks, Social Science Research Council, Wenner-Gren Foundation for Anthropological Research, National Endowment for the Humanities, and American Philosophical Society, among others.
Before coming to Northwestern University, Ogundiran taught at Florida International University (2001-2008) and the University of North Carolina at Charlotte (2008-2023).
He has served as Editor-in-Chief of African Archaeological Review since 2019 and was the Program Chair of the 136th Annual Meeting of the American Historical Association in 2021-23 (Philadelphia).
Publications
Dr. Ogundiran has authored, edited, and co-edited several books, including Archaeology and History in Ilare District, 1200-1900 (Cambridge Monograph in African Archaeology 55, 2002); Precolonial Nigeria (Africa World Press, 2005); Archaeology of Atlantic Africa and the African Diaspora (Indiana University Press, 2007); Power and Landscape in Atlantic West Africa (Cambridge University Press, 2012); and Materialities of Ritual in the Black Atlantic (Indiana University Press, 2014), which won a Choice Outstanding Academic Title for 2015. His latest book, The Yoruba: A New History (2020), won the 2022 Vinson Sutlive Book Prize and the 2022 Isaac Oluwole Delano Prize for Yoruba Studies.
Teaching 
Ogundiran's teaching interests encompass Early Africa, the Black Atlantic, Early Modernity, Political Collectives and Empires, the City, Alcohol and Drug, Climate and Society, and Material History. He works with undergraduate and graduate students and postdoctoral fellows interested in interdisciplinary approaches to African history.
Awards and Honors
President-Elect, Society of Africanist Archaeologists, 2023.
Senior Fellow of Garden and Landscape Studies, Dumbarton Oaks, Washington DC, 2023-26. 
Elected Member of the Nigerian Academy of Letters, 2022.
Member, Phi Kappa Phi, the oldest and most selective all-discipline collegiate honor society in the U.S., since 2020.
Visiting Professor in Archaeology and Anthropology, University of Ibadan, since 2017.
Yip Fellow at Magdalene College, University of Cambridge, 2018.
Award of Excellence, Nigeria's Centre for Black Culture and International Understanding, an affiliate of UNESCO, 2018.
Certificate of Special United States Congressional Recognition for Excellence in Service, 2007.
2006 University of Texas Africanist Award for Research Excellence, 2006.