Kennetta Hammond Perry
Associate Professor
PhD Michigan State University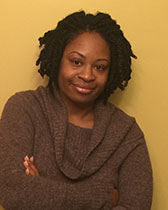 Crowe Hall, Room 5-113
Office Hours: By Appointment only
Interests
Geographic Field(s):  Modern European History: Britain and Its Empire
Thematic Field(s):  African Diaspora and African American History; Colonial, Imperial, and Diasporic History; Political and Policy History
Principal Research Interest(s):  Black British History, Transnational Race Politics, Europe and the African Diaspora, Black Feminist History
Biography
Kennetta Hammond Perry's (Ph.D., Michigan State University) research examines Black diasporic communities and political formations shaped by and within the imperial bordering of Britain. Her first book, London Is The Place For Me: Black Britons, Citizenship and the Politics of Race (Oxford, 2016) explores how a largely African Caribbean migrant community of Black Britons articulated claims to citizenship and publicly challenged the state to both acknowledge and remedy the ways in which anti-Black racism came to bear upon their lives in the decades following World War II.
Currently, she has completed a second book manuscript examining the life, death and legacy of David Oluwale, a Nigerian-born homeless man thought to have been murdered by police in Leeds, England in 1969. Drawing from Black feminist epistemologies, this study will contribute to burgeoning conversations within Black Studies and the discipline of History about how we ethically engage and demonstrate a duty of care in our historical writing about Black lives as they are represented in archives steeped in violence and disregard for Black humanity. Moreover, the book enlists the fraught historical record of David Oluwale's existence in Britain to examine the life-depriving entanglements defining the relationship between the postwar welfare state and the carceral state past and present.
Professor Perry has previously held fellowships with the Carter G. Woodson Institute and the American Council of Learned Societies and currently is a co-investigator on an Arts & Humanities Research Council (UK) grant examining the regional valences of 'Black Power' in the UK. She is also an honorary senior research fellow at the Stephen Lawrence Research Centre at De Montfort University in Leicester, UK where she previously served as founding director.