Elizabeth Lewis Pardoe
Director, Office of Fellowships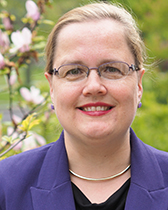 847-491-2617
1940 Sheridan Road
Office Hours: By Appointment only
Interests
Principal Research Interest(s):  15-18th Century Europe and North America; Socio-Political History of Education, Ethnicity, Immigration, Race, and Religion
Biography
Elizabeth Lewis Pardoe (Ph.D., Princeton, 2000) serves as Director of the Office of Fellowships and as an affiliate of the Program in American Studies. Her academic work scrutinizes responses to religious and ethnic conflict in Reformation Europe and colonial North America.
Publications
"The Many Worlds of Conrad Weiser: Mystic Diplomat," Explorations in Early American Culture, Vol. 4 (2000).
"Education, Economics, and Orthodoxy: Lutheran Schools in Württemberg, 1556-1617," Archiv für Reformationsgeschichte, Vol. 91 (December 2000).  
"Poor Children and Enlightened Citizens: Lutheran Education in America, 1748-1800," Pennsylvania History: A Journal of Mid-Atlantic Studies, Vol. 68, No. 2, Pennsylvania Germans, Part Two (Spring 2001)

.

"Frontiers of Body and Soul:  Ephrata's émigrés in Virginia," Common-Place, Vol. 7, No. 2 (January 2007).
"Constructing Community and the Diversity Dilemma: Ratification in Pennsylvania," in William A. Pencak, ed. Pennsylvania's Revolution, The Pennsylvania State University Press, 2010.
"Conrad Weiser" in Peter C. Mancall, ed. Encyclopedia of Native American History, vol. 3. New York: Facts On File, Inc., 2011.
"Ezechiel Sangmeister's Way of Life in Greater Pennsylvania," The Pennsylvania Magazine of History and Biography, Vol. 136, No. 4 (October 2012).
"Confessional Spaces and Religious Places: Lutherans' Atlantic World, 1698-1748" in John Corrigan, ed. Religion and Space in the Atlantic World, University of South Carolina Press, 2017.
Teaching Interests
"Refugees & Revolutionaries."
"Creating the Constitution."
"Reading & Writing Biography."
"Religion & Race in Colonial America & Contemporary Politics."
Recent Awards and Honors
The Alumnae of Northwestern University appointed Dr. Pardoe to their Board of Directors in 2011. 
Phi Beta Kappa's East Central District elected Dr. Pardoe their Secretary in 2012 and again in 2015. 
Northwestern acknowledged Dr. Pardoe for Service Excellence and Best Practices in 2014 and 2015 respectively.
Back to top