Ajay K. Mehrotra
Professor of Law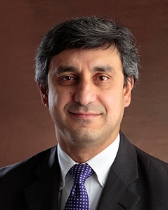 312-988-6500
750 N. Lake Shore Dr., Chicago, IL 4th Floor
Office Hours: By Appointment only
Interests
Geographic Field(s):  American History, Since 1900
Thematic Field(s):  Economic and Labor History; Legal and Criminal History
Principal Research Interest(s):  U.S. legal, intellectual, and economic history
Biography
Ajay K. Mehrotra is Professor of Law at the Northwestern Pritzker School of Law, and an Affiliated Professor of History at Northwestern University. He is also currently the Executive Director and a Research Professor at the American Bar Foundation (ABF), an independent, non-profit research institute that focuses on the empirical and interdisciplinary study of law, legal institutions, and legal processes. His scholarship and teaching focus mainly on American legal, intellectual, and economic history and tax law . More generally, his research explores law and political economy in historical and comparative perspective, with a particular focus on fiscal policy and state-building.
Before joining the ABF and Northwestern, Mehrotra taught at Indiana University, Bloomington. He was a Professor of Law at the Indiana University Maurer School of Law, and a Professor of History in the college. Prior to his time at Indiana University he was a Doctoral Fellow at the ABF. After law school and before he embarked on his academic career, Mehrotra was an Associate in the Structured Finance department of the New York offices of J.P. Morgan.
Mehrotra received his B.A. in Economics from the University of Michigan, his J.D. from Georgetown, and his Ph.D. in American History from the University of Chicago.
Selected Publications
Making the Modern American Fiscal State: Law, Politics and the Rise of Progressive Taxation, 1877-1929 (New York: Cambridge University Press, 2013). Received 2014 Society for U.S. Intellectual History Annual Book Award.
The New Fiscal Sociology: Taxation in Comparative and Historical Perspective, co-edited with Isaac William Martin and Monica Prasad, (New York: Cambridge University Press, 2009).
"The Curious Beginnings of the Capital Gains Tax Preference," 84 Fordham Law Review 2517-36 (2016) (with Julia C. Ott).
"A Bridge Between: Law and the New Intellectual Histories of Capitalism," 64 Buffalo Law Review 1-23 (2016) (symposium on "Opportunities for Law's Intellectual History).
"Charles A. Beard and the Columbia School of Political Economy: Revisiting the Intellectual Roots of the Beardian Thesis," 2 Constitutional Commentary 475-512 (2014).
"From Programmatic Reform to Social Science Research: The National Tax Association and the Promise and Perils of Disciplinary Encounters," Law & Society Review 593-630 (2011) (with J. Thorndike).
Back to top