Thank you for your support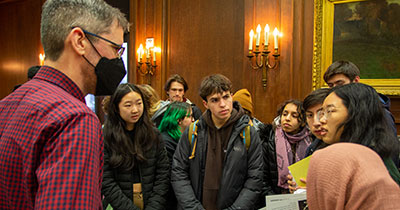 Gifts to the Department of History enhance the experience of students, undergraduate and graduate alike. Donations will help support students in venues outside of the classroom and to recognize academic distinction through the award of departmental prizes for outstanding essays, senior theses, and dissertations.
Our undergraduates engage in original research, especially as participants in the Department's rigorous Senior Honors Seminar. We rely especially on donations like yours to support summer and school-year trips to archives and other repositories that make this research possible. Finally, our majors are more likely than ever to take their skills off-campus to combine academic work with experiential learning, with volunteer work in the Chicago area through field studies and summer internships.
Our graduate program is also thriving, with a strong applicant pool and an excellent placement record, despite keen national competition. Your donation will help us continue providing travel awards that enable graduate students to carry out research or present papers at academic conferences. It has also helped them acquire foreign languages. This support, especially early in their graduate careers, has proven transformative: a visit to a significant archive or library, or feedback at an academic conference, can have dramatic effect on students' careers, improving external fellowship applications, dissertation proposals, and ultimately their competitiveness on the job market.  The results to date have been very gratifying.  
Thank you for helping us train a new generation of people who think historically.