Historical Studies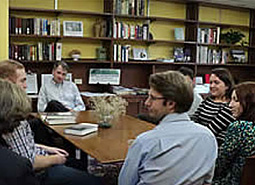 The Chabraja Center for Historical Studies (CCHS) promotes broad scholarly engagement with historical materials. The center hosts an annual lunch lecture series and sponsors or co-sponsors a multitude of other campus events on the subject of history, including conferences, panel discussions, workshops, and global graduate exchanges.
Upcoming Events
5:00 PM - 7:00 PM, Evanston
Joint CCHS/CAAH Distinguished lecture on African American History FREE and open to the PUBLIC hybrid event--you can attend in person or...
12:00 PM - 2:00 PM, Evanston
Marcy NORTON (University of Pennsylvania), author of Sacred Gifts, Profane Pleasures: A History of Tobacco and Chocolate in the Atlanti...
Back to top