Bogdan Pavlish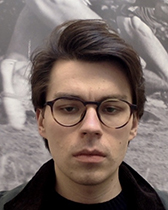 Biography
Bogdan specializes in the history of early modern Eastern Europe with a focus on Poland-Lithuania. His current research project deals with the Armenian diaspora of Poland-Lithuania and its role in mediating between Europe and the Middle East. Focusing on trans-regional networks of Armenian merchants, clerics, and interpreters based in southeast Poland-Lithuania, Bogdan examines their social and religious dynamic across shifting political and confessional boundaries in the second half of the seventeenth century.
He has worked with archival collections in Ukraine, Poland, Armenia, and the Vatican. His research has been supported by the Calouste Gulbenkian Foundation. Bogdan studied social sciences at Kyiv-Mohyla Academy in Ukraine and comparative history at Central European University in Budapest, Hungary.
His article 'Relics in Exile: A Collection of Armenian Sacred Objects between Poland-Lithuania and the Ottoman Empire, 1672-1699' has been published in the Journal of Early Modern History.
Back to top