Dyan Elliott
Peter B. Ritzma Professor of the Humanities and Professor of History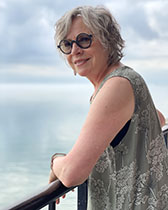 Interests
Geographic Field(s):  Medieval and Early Modern European History
Thematic Field(s):  Gender and Sexuality History; Religious History
Principal Research Interest(s):  Medieval Sexuality, Gender, and Spirituality
Biography
Dyan Elliott (Ph.D., University of Toronto, 1989) is a medieval historian who has published widely on medieval gender and religious history. At present, she is working on a book length analysis of the medieval clergy and sexual scandal. She has also recently completed a historical novel entitled A Hole in the Heavens (forthcoming with Bagwyn press – a subsidiary of Arizona State University's Center for Medieval and Renaissance Studies). 
Publications
Teaching Interests
I accept students who are engaged with many aspects of the cultural history of the high and later Middle Ages. My most recent graduates are Anne Koenig (PhD, 2013; presently Assistant Professor of History at the University of South Florida) and Melissa Vise (PhD, 2015; presently Visiting Assistant Professor in Italian Studies at New York University). Anne's dissertation was entitled "Out of Their Minds: Madness, Medicine and Society in late Medieval Germany";  Melissa's dissertation was entitled "The Threat of the Tongue: Illicit Speech in Late Medieval Italy (1250-1450)."
Undergraduate Courses
The Early Middle Ages.
The High Middle Ages.
The Medieval Misfit.
Medieval Sexuality.
Medieval Women.
Saints and Sinners in the Middle Ages.
Recent Awards and Honors
National Endowment for the Humanities (NEH) Research Fellowship, 2021.
John Simon Guggenheim Memorial Foundation Fellow, 2020.
ACLS Fellowship, September 2016- September 2017 .
National Humanities Center Fellowship, 2012-13.
Elected fellow of the Medieval Academy of America, March 2010.