Norman Joshua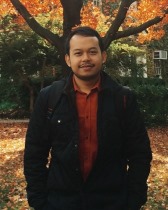 Biography
Norman Joshua is a graduate student in Southeast Asian history at Northwestern University and an Arryman Scholar at the Equality Development and Globalization Studies (EDGS) at the Buffett Institute for Global Studies. He specializes in Modern Southeast Asian history, Modern East Asian history, and Modern Indonesian history.
Norman's dissertation project, "The Fashioning of Authoritarianism: Militarization of Everyday Life and the Advent of the New Order Security State in Indonesia," examines the origins of military rule in Indonesia. By tracing the political, social, and intellectual histories of Indonesia's defense and security assemblages, my research project aims to narrate the story of everyday militarization through the perspective of Indonesian soldiers, police officers, village chiefs, petty bureaucrats, school teachers, college students, market middlemen, and popular writers of Soekarno-era Indonesia (1950-1965). Through state, regional, military, and police archives, along with periodicals and works of fiction, this project will look at how the militarization of everyday life shaped and was transformed by Indonesia's shifting concepts of defense and security; the changing dynamics of Indonesian civil-military relations; and intertwined linkages between ideas of political legitimacy, national integration, and authoritarianism in Indonesian society.
Norman previously served as an Arryman Fellow visiting scholar at EDGS in 2015. In 2014, Norman graduated with a S.Hum. (Sarjana Humaniora) from the History Department, Universitas Indonesia. His undergraduate thesis, which looks at the history of a socialist youth group during the Indonesian Revolution (1945-1949), is published as a monograph by Marjin Kiri in 2016.
Publications
Norman Joshua. "State and Revolution in the Indonesian Republic." Jurnal Sejarah. Vol.2 No.1. (2018).
Norman Joshua. "Worker's Paradise?: A History of Labor in the Oil Towns of the Netherlands Indies, 1890-1939." Jurnal Sejarah. Vol.1 No.2 (2018).
Norman Joshua Soelias. Pesindo: Pemuda Sosialis Indonesia, 1945-1950 [Pesindo: Indonesian Socialist Youth, 1945-1950]. Serpong, Tangerang Selatan: Marjin Kiri. 2016. (in Indonesian)"
Back to top