Jayson Maurice Porter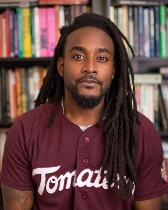 Field(s):  Latin America
Specialization: Environmental History; Science and Technology Studies; Race
Advisor(s):  Paul Gillingham
Biography
Jayson Maurice Porter is a PhD candidate of environmental history in Mexico and the Americas focusing on agrochemicals, rural food deserts, and Black ecologies. He is from Philadelphia, Pennsylvania, but grew up between Tucson, Arizona and Jackson, Mississippi. He graduated from Millsaps College where he studied philosophy, history, and environmental sciences.
His dissertation is an environmental history of agrochemicals for and made from the cultivation of oilseeds—sesame, cotton, coconuts, opium, and marijuana—which connects accounts of ecological violence, food insecurity, and environmental justice in Guerrero and Sinaloa, 1920-1980. As a COMEXUS-Fulbright Scholar (2019-2020), he was a visiting scholar for the Centro de Investigación y Docencia Económicas affiliated with the Derechos Humanos de la Ciudad de México. Jayson is an environmentalist specialist and fellow at Noria Mexico and Central America, where he edits a series called "Violence Takes Place: Land, Markets, and Power in Rural Mexico."
Jayson is an Editorial Board member of the North American Congress on Latin America (NACLA), an official contributor for Black Perspectives in 2021, and has written in other media platforms, such as OkayAfrica, Washington Post, The Organic Center, and Age of Revolutions.
Back to top