Emiliano Aguilar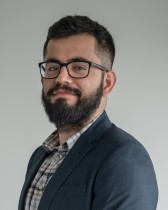 Field(s):  United States
Specialization: Latinx History, Political History
Dissertation Title: Building a Latino Machine: Machine Politics, Corruption, and Integration in East Chicago, Indiana, 1945-2010
Advisor(s):  Geraldo L. Cadava
Biography
Emiliano Aguilar Jr. is a Ph.D. Candidate in History. A native to East Chicago, Indiana, he attended Wabash College in Crawfordsville, IN, and majored in English and History. After completing his undergraduate degree, Emiliano attended Purdue University Northwest and earned his M.A. in History.
Emiliano's dissertation, "Building a Latino Machine," focuses on how the ethnic Mexican and Puerto Rican community of East Chicago, Indiana navigated corrupt machine politics to pursue their inclusion into the city. The narrative will trace the transition of Latinos from cogs in the political machine to eventually becoming the machine itself. During this transition, these communities engaged in unethical political behavior, including kickbacks, ghost payrolls, patronage politics, and vote tampering. Journalists across the United States framed East Chicago in the 1970s as "the last political machine in America." The project will extend the discussion of machine politics, labor's influence, and corruption together to explore how a community pursued inclusion in a system notorious for backroom dealing in the Postwar Era. As the city underwent white flight and deindustrialization, the Latino community transitioned from cogs in the machine to building a Latino political machine, under the same corrupt practices of patronage as their predecessors.
His work has been featured in Belt Magazine, Immigration and Ethnic History Society's Blog, and Indiana Historical Society Blog. He has spoken about his work and Latinx History in the Midwest on PATV Channel 18 and Valparaiso University's Welcome Project. Look for his work in the forthcoming Latinx Placemaking in the Midwest: Building Sustainable Worlds (under contract with the University of Illinois Press) and Dispatches from the Rust Belt: Volume III, The Best of Belt Magazine 2020.
Outside of his research, Emiliano is an avid reader of science fiction, fantasy, and graphic novels. Emiliano's hobbies include homebrewing and tabletop gaming.
Back to top