Andrea Rosengarten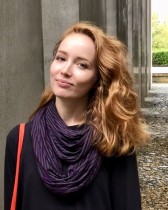 Field(s):  Africa
Specialization: 19th- and 20th-century Namibia and South Africa; historical geography; critical race and ethnicity studies; missionaries and translation; social history of apartheid
Advisor(s):  Jonathon Glassman
Biography
Andrea Rosengarten is a fifth-year doctoral candidate in the History Department.
Her dissertation is tentatively titled: "Spacing Race: Indigenous geographies and alternative constructions of place in colonial Namibia, 19th-20th centuries." Andrea's project has been funded by a Fulbright-Hays Doctoral Dissertation Research Abroad fellowship in 2019-2020, and a CLIR-Mellon Dissertation Research in Original Sources fellowship in 2018-2019. The work is based on archival and oral history research in Namibia, South Africa, Germany and the UK.
Andrea has also taught history research methodology at the University of Namibia in Windhoek, and is a core member of the project "Space in Time: Landscape narratives and land management changes in a Southern African cross-border region." Space in Time is a collaboration between the University of Namibia, University of Cape Town and University of Basel, funded by the Swiss National Science Foundation and the South African National Research Foundation. The project focuses on the lower Orange River borderlands between South Africa and Namibia over the last 200 years from the interdisciplinary perspectives of history, geography, and environmental studies.
Prior to Northwestern, Andrea was awarded the Richard Hofstadter Dissertation Prize for best master's thesis in her graduating cohort of the Columbia University & London School of Economics dual degree program in International and World History (2014). Her M.A.-M.Sc. thesis examined the emergence of the "Coloured" racial segregation category in Namibia during the first two decades of South African colonial rule, ca. 1915-1935.
Originally from New York City, Andrea holds a B.A. from Columbia University (2012) in German Studies and Art History (magna cum laude).
Back to top