Sherwin Bryant
Associate Professor of African American Studies
Ph.D., Ohio State University, 2005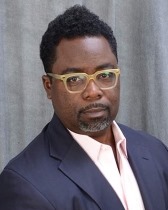 847-491-5122
Crowe Hall 5-128
Office Hours: Tuesdays and Thursdays, 11:00am to 12:00pm, and by appointment
Interests
Geographic Field(s):  Latin American and Caribbean History
Thematic Field(s):  African Diaspora and African American History
Principal Research Interest(s):  Colonial Latin America; Early Modern African Diaspora; Atlantic & Pacific Worlds; Comparative Slavery; Law and Society; Political Economy
Biography
Sherwin K. Bryant (Ph.D., Ohio State University, 2005) is Associate Professor of African American Studies and History, and Director of the Center for African American History. As an historian of colonial Afro-Latin America and the Atlantic/Pacific Worlds, Bryant works at the intersections of cultural, legal, social history and political economy, with an emphasis upon Black life in the Kingdoms of New Granada and Quito (what is now modern Colombia and Ecuador). With regard to comparative slavery studies, his work addresses the need to conceptualize early modern histories of slavery, freedom, and race as colonial practices of governance.
In addition, Bryant's research expands the diasporic paradigm from the Atlantic to the Pacific by specializing in the history of the Afro-Andes and the development of "Black Pacific" subjectivities. Dr. Bryant has held postdoctoral fellowships at the John Carter Brown Library, the Newberry Library, and the Alice Berlin Kaplan Center for the Humanities at Northwestern University and has been both a Fulbright and Ford Fellow. He teaches courses on the histories of colonial Latin America, the Early Modern African Diaspora, comparative slavery, and the politics of Afro-Latin America since 1800.
Dr. Bryant's manuscript, Rivers of Gold, Lives of Bondage: Governing through Slavery in Colonial Quito (University of North Carolina Press, 2014), offers the first serious treatment in English of slavery and slave life in colonial Quito. By investigating just how and why slavery mattered in a colony that featured a relatively smaller slave population (no more than 15,000), Rivers of Gold challenges the narrower conceptualization of slavery as primarily an economic demand. Instead, Rivers of Gold argues slavery performed a fundamental dimension of governance as an extension of imperial power for colonial Spanish America. As a result, this in-depth study of colonial Quito societal norms, economic practices, and law and legal cultures, demonstrates slave life's socio-political imprint occurred well before colonial authority's purely economic need for slave labor. Specifically, Rivers of Gold discusses the physical act of royal branding to establish how the very bodies of the enslaved, and their circulation throughout the Andean world, worked to augment the spectacle of royal power and territorial control and expansion.
Following enslaved Atlantic Africans from the Caribbean port of Cartagena into the Andean Pacific worlds that Spain claimed as the Kingdom of Quito, Rivers of Gold showcases how they lived bondage, the contexts in which they formed kinships, community, and how they pressed for justice within the legal cultures of this Early Modern Catholic, slave-based sovereign community. Ultimately, the work suggests the need for scholars to inquire seriously into the nexus of Blackness, racial governance, and power in the colonial Andes.
Dr. Bryant is currently working on two new book-length projects. The first charts the history of Black subjectivities along Colombia and Ecuador's Pacific littoral while the second develops a history of slave life within the contraband slave routes that ran through Panama and New Granada before the era of free trade. He interrogates these histories through legal sources with an eye towards colonial legal cultures and Black interiority, or the ways that Africans and their descendants crafted lives that were circumscribed within the racial order, yet lived to some degree without regard for the broader power matrix.
Teaching Interests
Undergraduate Courses
Introduction to African American History.
History of the Black World.
Comparative Slavery.
Politics of Afro-Latin America.
Afro-Latin America (since 1800).
Graduate Courses
Historicizing Race in Colonial Latin America.
Diaspora Tropes and Theories.
Africans in Colonial Latin America.
Publications (selected)
Rivers of Gold, Lives of Bondage: Governing through Slavery in Colonial Quito (UNC Press, 2014).
Expanding the Diaspora: Africans to Spanish America, co-edited with Rachel O'Toole and Ben Vinson, (Urbana: University of Illinois Press, 2012).
"Finding Freedom in Colonial Quito," in The Ecuador Reader, (Duke University Press, 2008).
"Finding Gold, Forming Slavery: The Creation of a Classic Slave Society," The Americas (2006).
"Enslaved Rebels, Fugitives, and Litigants: The Resistance Continuum in Colonial Quito," Colonial Latin American Review (2004).
Back to top